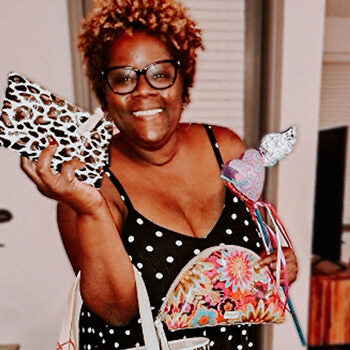 WHEN YOU MOVE WITH A GENUINE HEART, PEOPLE NEVER FORGET YOU
Sylvia is the founder and CEO of the non-profit, 40 Girls and Some Shoes, in Atlanta, Georgia. She is committed to helping the less fortunate take the first step into a new life by providing them with a new or gently worn pair of shoes. Over the past 10 years, the non-profit has provided over 35,000 pairs of shoes to the homeless and underserved in her community. Her organization also partners with local schools, donating shoes to their supply closets, so that students can come to school ready to learn and thrive.

Sylvia makes instantaneous connections with her charisma and joy! Her nominator, Cynthia, says, "Sylvia is ALWAYS smiling, laughing, and hugging you when you see her. She's a phenomenal inspiration, a go-getter, with endless energy. I just can't say enough about Sylvia."

We can't either! Sylvia inspires us with her leadership and dedication to lifting the lives of others! Her motto motivates us, too - "When you move with a genuine heart, people never forget you." You will be long remembered for your impact, Sylvia! Thank you.