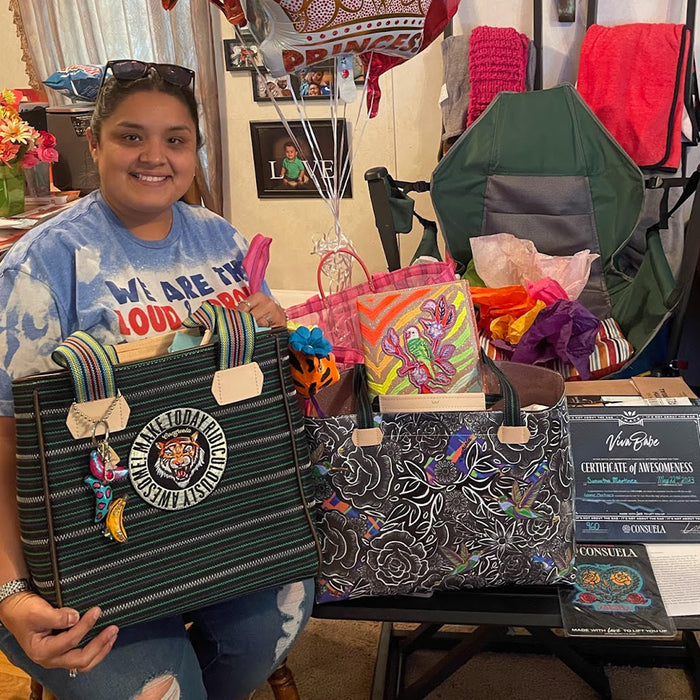 Never let the fear of striking out keep you from playing the game
Meet Samantha, our remarkable newest Consuela Viva Babe, shining brightly in the heart of Wharton, Texas! With over a decade of dedication as a substitute teacher, Samantha is the unsung hero who has transformed numerous children's lives, leaving a lasting impact far beyond the classroom! 
What is Samantha's superpower? Her ability to profoundly connect with her students and treat each one of them as her own inspires them all to reach for the stars. Her sister, who nominated her, proudly says, "She has a gift! The children gravitate to her… those are her babies." Samantha's impact is so strong that when she is in town, students eagerly drag their parents to meet her, excited to introduce her to their families. What a testament to the authenticity of Samantha's guiding hand and kind spirit as an educator who makes an unforgettable impact on her current and former students. 
Beyond the classroom walls, Samantha extends her community reach by volunteering with her church's religious education programs, where every child knows her name, and her dedication has become a source of inspiration to all. 
Recently, Samantha embarked on a new role as a full-time paraprofessional for preschool through first grade. She guides students not only in the value of perseverance but also in the joy of taking on challenges, all while knowing they have a mentor in Samantha — a true 'Super Awesome Teacher' who believes in them. 
Samantha lives by Babe Ruth's words: "Never let the fear of striking out keep you from playing the game."