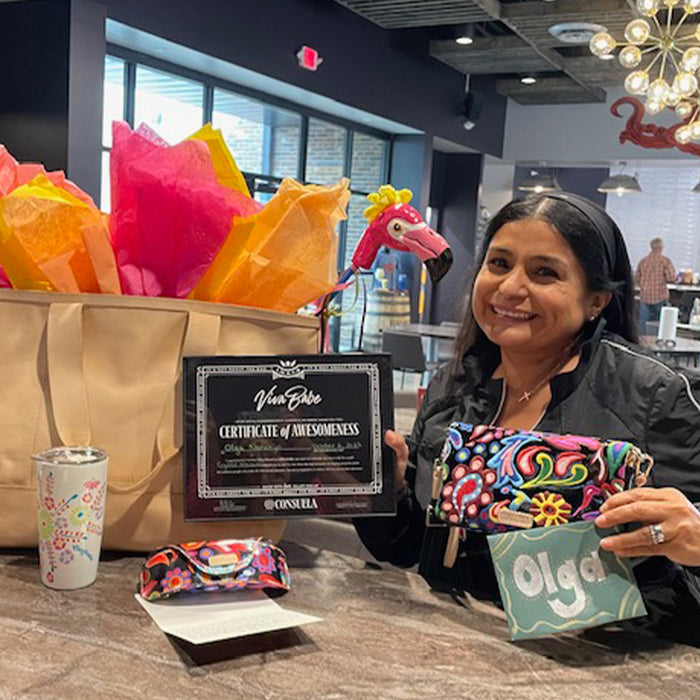 "If you have a lot, give a lot, and if you have a little, give a little, but give."
In the summer of 2012, out of their dining room, Olga and her family spearheaded the non-profit HispanoExito(HE) with a vision to give 50 students brand-new backpacks and school supplies. With only flyers and word of mouth, they promoted the grassroots organization and a party which turned out to be for 350 students! The party "El Mochilon" consisted of a fun summer back-to-school bash offering home-cooked meals and new school supplies for all. The party grew even more the following year, and 500 children were celebrated! Ten successful years later, HispanoExito has provided meals and backpacks filled with school supplies to thousands of children locally and internationally! 
In addition, Olga is a 2-time breast cancer survivor and throws HE Zumbathons to raise money for local cancer services! Given only months to live on her second round, Olga's faith and bright positive spirit took over, and she got up and fought! She's completely changed her lifestyle to a 100% plant-based diet and taught herself about clean eating and living. Then, in true Olga fashion, she took all she learned and shared her journey, recipes, holistic healing methods, and ups and downs with everyone in an effort to help at least one person! She is now celebrating three years of healing holistically and sharing her new journey.
Since then, Olga has organized brunches and thrives on social media sharing her wellness travel retreats and holistic modalities. She encourages others to incorporate clean, plant-based eating and juicing. 
Olga makes the world a better place by just being her radiant self, but she kicks it up by sharing so much of herself with others. 

Olga, we are thrilled to have celebrated your Awesomeness and are so thankful for all you do! Keep on shining and sharing!


Her quote to live by "If you have a lot, give a lot, and if you have a little, give a little, but give."