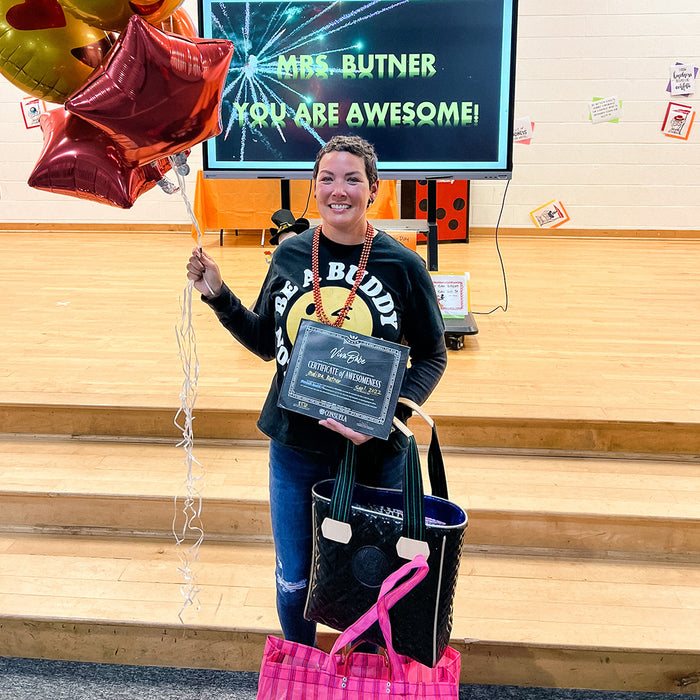 MELISSA
Colfax, North Carolina
I can do all things through Christ who strengthens me
Viva Babe Melissa shines love and light on all the people around her! We are thrilled to shine a light back on HER today as we celebrate the ways Melissa makes life ridiculously awesome. 
As an Exceptional Child Teaching Assistant, Melissa faithfully loves children who have special needs. Her nominator is the mom of a boy in Melissa's class, and writes about her saying:
"My son has been known to scream, kick, and hit her and run away. She consistently finds a way to connect on his level, either with Pokémon, legos, or whatever he thinks is funny to help soothe him and help him achieve his level of success every day. She boldly walks into any challenging behavioral situation and manages to connect to the children and redirect their focus and help them become calm." 
Melissa was diagnosed with breast cancer this school year. While she was on leave receiving chemo she even took the time to send all of her students a fabulous Valentine's bag with candy and handwritten notes. 
Her nominator says "every day she makes tiny miracles happen in the lives of her students, and those tiny miracles add up to huge life-changing miracles in the course of a year. We are all privileged to know her! I admire her bravery in facing the uncertain, and when she should've spent time focused on herself, she made a way to love her students from afar until she could return to school."
Melissa says her mantra is --
I can do all things through Christ who strengthens me. - Phil 4:13
Thank you, Melissa, for being a hero to your students and their families