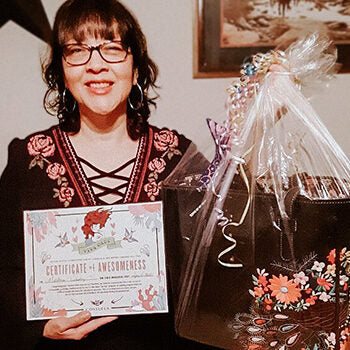 SHE IS A WOMAN OF FAITH AND ACTION, WHO MEANS WHAT SHE SAYS.
Martina lives in Navasota, Texas, and was nominated by her step-daughter, Vanessa. Vanessa reveals that Martina is always stepping up to offer assistance, sharing, "If someone finds themselves in a bad situation, Martina is the first to ask how she can help. She is a woman of faith and action, who means what she says." Not only is she generous with her time, but her love language is also gift-giving. She listens intently and pays great attention to all the little signals, searching and giving 'the perfect gift.' You can feel the joy in her gift-giving.⁠
⁠
In addition to her devotion to friends and family, her dedication is also obvious in her career. Martina has worked many years as a cashier and continued to work while the pandemic was at its peak. While most of us were working from home or staying in the safety and comfort of our home, Martina carried on working with the public, putting aside her uneasiness and forging ahead with life's uncertainties. Vanessa continues, "She's a tough lady that's always pushed forward regardless of circumstances."
⁠
Martina, thank you for being a pillar of strength, a shoulder to lean on, and a kindhearted Viva Babe! You light up the world with your gifts of devotion and affection.