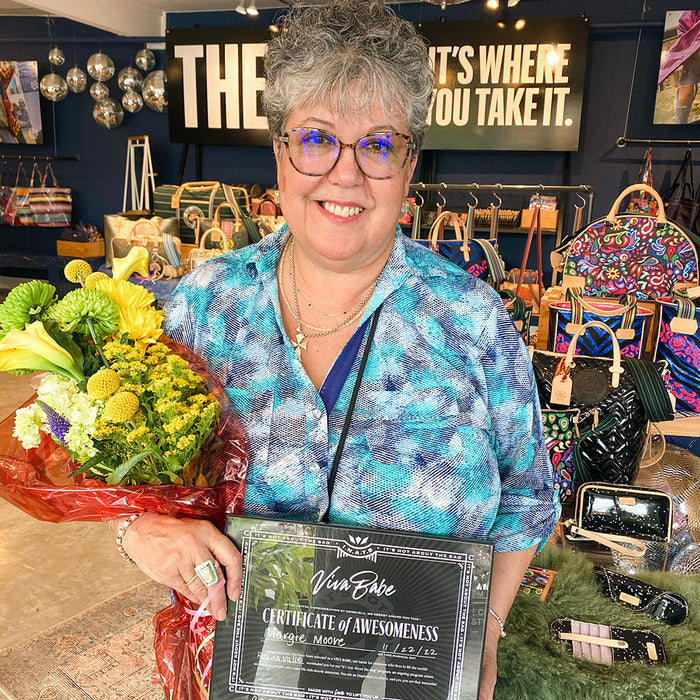 She embodies selflessness, love and care, joy, and loyalty! We are SO excited we got to celebrate this Viva Babe, and we can't wait to tell you about her! 

Margie was nominated by a lifelong friend of 60+ years, Rosina. Rosina told us about the outstanding career Margie has in Higher Education, Banking, Economic Development, and the multiple successful businesses she ran. Throughout her success, she has relentlessly contributed back to her community. 

Beyond her work professionally, Margie is also a dedicated mom to four adult daughters, encouraging them and cheering them on through all of life's highs and lows. Margie is now dedicating her retirement years to caring and supporting Isabelle, age 35, who was born with Down Syndrome. Her nominator Margie says-

"Margie will serve as her primary caregiver and is being trained on home care for Issie not because she HAS to...because she WANTS to. While I am confident this was not what she had envisioned she would be doing in her retirement years, you will not hear any conversations of regret or resentment from her. Margie's skills are numerous and impressive, and she continues to amaze me with skills and traits like humility, honesty, passion, and positivity."
Margie, we are so thrilled to celebrate you and all that you do for those around you!