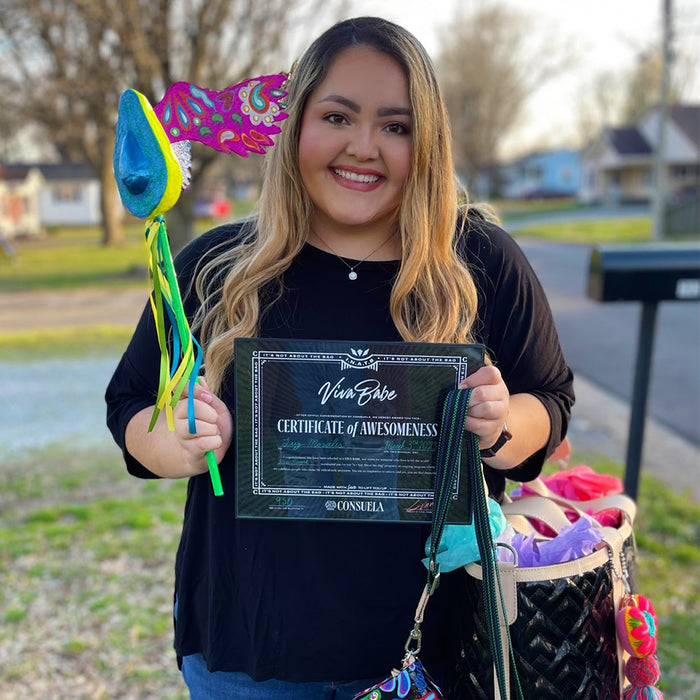 Luz
Union City, Tennessee
Always remember that you are more than enough and worthy of love and kindness
Luz is a bright light and inspiration to many, especially her nominator. They met and worked together at a retail shop during Luz's college years.  
Luz moved to Tennessee from Guanajuato, Mexico, when she was five. As a young girl, she took it upon herself to learn English before attending her first American public school. Even as a little girl, she wanted to be independent, heard, and understood. She loves being able to help make the community better for everyone, especially the Hispanic community and any victims of injustice. Luz understands the struggles that come with being "different," and she makes it a point to make others feel special every day. She is creating positive change that will impact future generations.  
Luz has been heavily involved in the Union City J'Cettes since 2018. The Union City J'Cettes is an organization that helps empower young women to stay involved in their community and help make their community better through volunteer work and fundraising for other nonprofits within their community. As the current Union City J'Cettes president, she raises money for cancer patients in her community through the Obion County Walk of Hope. Every year during Christmas, she is also heavily involved in Chimes for Charity with the J'Cettes. She serves as Vice President of the Adult Leadership Obion County board and enjoys educating other community leaders on all the community offers. For the last two years, Luz has also served on the Main Street board and has been able to help local businesses have a Downtown they can all be proud of and thrive in. Last year, she was selected to be a part of the Personnel Advisory Committee for the City of Union City and has enjoyed serving her city's personnel. Have I mentioned she is only 26?!! In 2021, she was chosen for the 31 under 31 for her community!! Amazing!! 
Very well deserved! Bravo!
She is someone very integral and special to the community. Luz's determination, support, energy, and drive are inspirational and Ridiculously Awesome!!  
Words Luz lives by: 
"Always remember that you are more than enough and worthy of love and kindness."