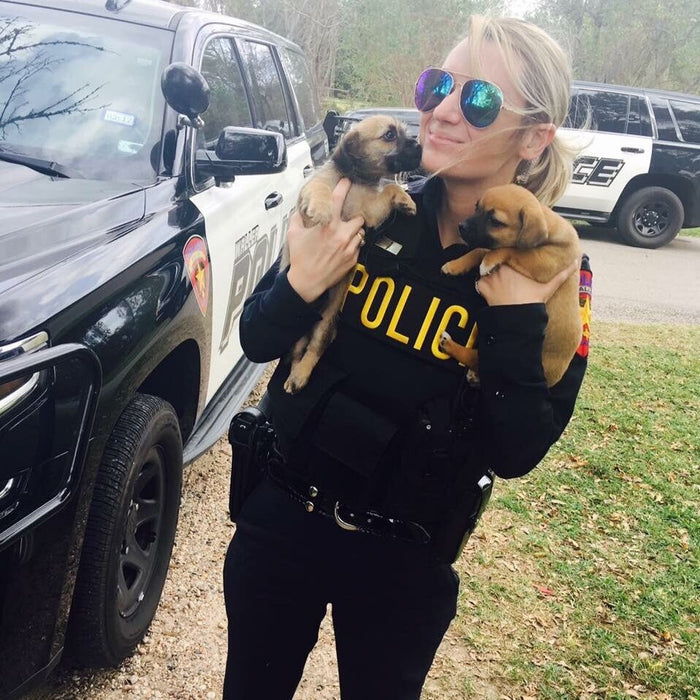 BE THE VOICE FOR THOSE WHO CAN'T SPEAK!
Leah is a police officer in Houston and spends her free time advocating for animals. In college, she volunteered at the Bryan, Texas Animal Center, using her talents to photograph and video dogs to shine the light on the needs of the animals. During her time at the Animal Center, Leah met her nominator, Terry. With a common passion, these two animal advocates became fast friends. After Leah moved away to a new position in Waller, Texas they stayed in touch through social media where Terry learned of the incredible work Leah continued to do to fight for animals!

As a police officer in Waller, Texas, Leah spearheaded the city's first and only dog shelter, the City of Waller Animal Shelter, by renovating an old and decrepit jail cell. Then, when she relocated to the nearby Houston area, she founded a new rescue group, First Responder Animal Rescue, with the mission "to be the voice for those who can't speak!" Leah often fosters dogs and cats from the street and rescues animals from high kill shelters, all while maintaining long hours at her job. Terry shares, "I am in awe and humbled by her amazing service." We couldn't agree more! We admire and honor you, Leah, for being a strong and incredible voice for animals!