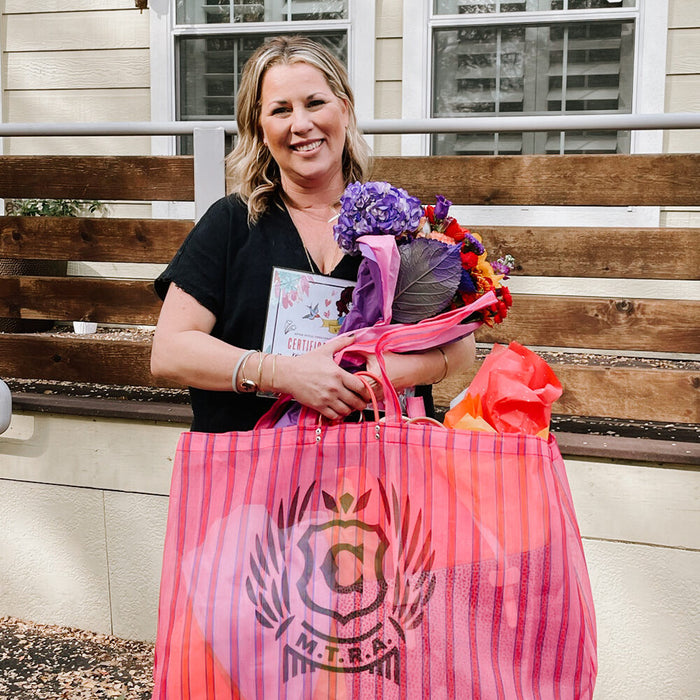 PLANT A SEED+ROOT YOURSELF IN YOUR COMMUNITY.AUSTIN, TEXAS
Kristen lives in Austin, Texas, and is the founder of Better Together, a Facebook Community group started during the pandemic aimed at lifting the lives of the people around them and those who join their group, far and wide, as they can. She was nominated by Ruchi, also a member of the online group. Ruchi says, "In addition to running her own small business and being a mom to three kids, Kristen is the force behind Better Together - an organization to feed and help those without housing." Ruchi had never met Kristen but was so moved by Kristen's awesomeness; she was impassioned to nominate her.
⁠
Better Together serves 400 hot meals monthly to friends experiencing homelessness and provides a week's worth of groceries to 60 families each month. Kristen quickly points out that she has amazing partners who help make the magic happen. Austin Humanists at Work sponsors the food pantry, and The Charlie Center helps in navigating services: housing, healthcare, food stamps, mail, etc. Beyond the food pantry and service resources, the Better Together community helps their neighbors in other ways, including being the catalyst in connecting a kidney donor and recipient.
⁠
Kristen exemplifies her mantra, "Plant a Seed+Root Yourself in Your Community."
⁠
Thank you, Kristen, for leading and cultivating a community of love. Your roots run deep and are deeply connected to making a difference. You are remarkable!