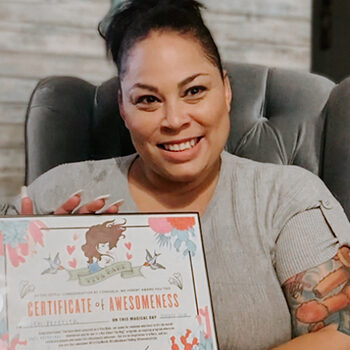 I AM STRONGER THAN THIS CHALLENGE, AND THIS CHALLENGE IS MAKING ME STRONGER!
Jen was nominated by her husband, Chris, and lives in Manvel, TX. They have experienced heartache like few couples can imagine, yet choose to focus on light and love. In 2013, after failed fertility treatments, they were thrilled when they learned they were pregnant with quadruplets. About halfway through the pregnancy and after six weeks on bed rest, the babies decided to make an entrance into the world. First, baby Serenity was born on 3-11-14 and devastatingly passed away two hours later. Chris shares, "So selfless, I would ask my wife if she wanted to hold her and she would lovingly tell me 'I have held her for over five months, now it's your turn!'" They had hope that the other three would survive, but tragically Jaxson, Gianna, and Gage passed away in Chris's arms within hours of being born two days later. With unwavering faith, Chris continues, "Through such a traumatic experience, my wife held strong to her faith and always said she knew God took our kids so that we could help other people."⠀

Jen rebounded with inspiration; She formed and chairs the Perinatal Patient/Parent Advisory Council for a local hospital to promote patient/family-centered care. She was also asked to share her story as part of UT Physicians Comfort Care. ⠀
⠀
Fast forward a few years, they never lost hope and are now proud parents to two beautiful children, Noah and Gia. Chris continues, "Today my wife is back at work full time, an amazing mother to our children, chair on a wonderful council and is a superhuman-being. She has made sure that our children didn't die in vain and lives every day of her life for their memory!"
⠀
Jen focuses her energy on positivity, sharing, "The things I try to keep in mind during hard times is 'I am stronger than this challenge, and this challenge is making me stronger!'"