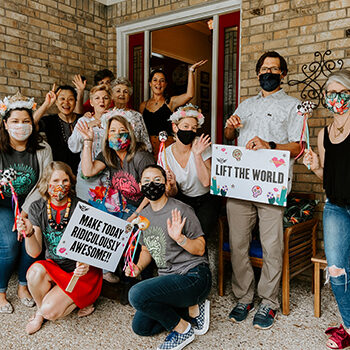 Imagine the surprise when the Consuela Crew shows up on your front doorstep during your lunch break from Zoom classes (and luckily for us, the whole family is in town)! Jeanette was astonished!

Jeanette is a Testing Coordinator at an Austin-area high school whose role is to administer tests to students with special accommodations/needs. Beyond her role, Jeanette goes the extra mile to lift the students' lives. Her nominator, Elizabeth, a fellow teacher and friend, says, "she provides food, clothes, school supplies, toiletries, and even furniture to newly arrived refugee families. She collects donations from many different sources and uses her personal money; Imagine the number of hours she puts into this!! She even created a Supply Closet in her classroom."

Last year, to motivate failing students, she connected with a local hamburger restaurant to create free meal tickets for students to earn as they completed each unit. The program was wildly successful with hundreds of tickets handed out.

To top things off, she also fosters cats, caring for them until they are given a permanent home. Over the years, she's saved hundreds of cats!
⁠
She strives to live by her motto, "Do one good deed a day."
Jeanette, you are living proof that kindness and compassion make a difference. We are thankful for your limitless good deeds!