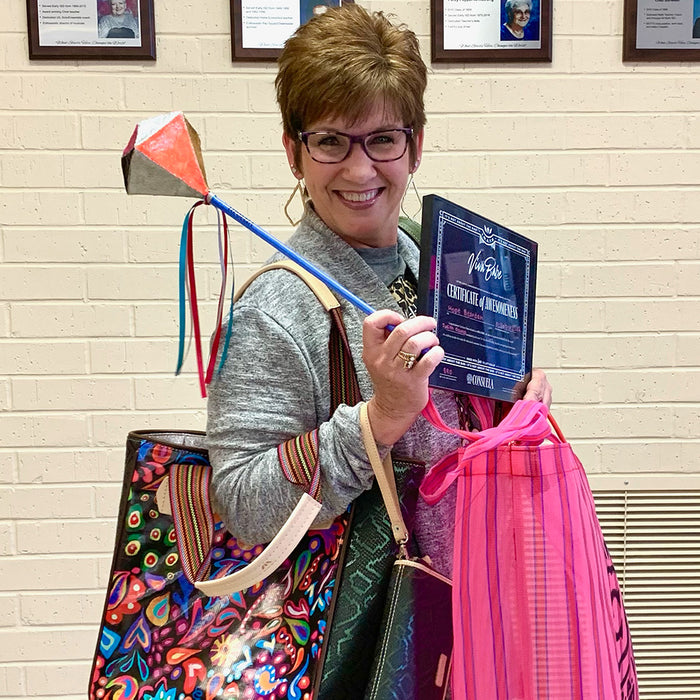 We are cheering, hollering, and applauding a woman who LOVES BIG, devotes herself to bettering her school, and is a pillar of strength for her family and loved ones. Our newest It's Not About the Bag honoree is a star - we can't wait to tell you about her. 
Hope is a high school guidance counselor. Her nominator says while Hope battled cancer, "she taught us grit and determination while she continued to serve our school".
Hope is at every after school sporting event taking professional photos of kids doing what they love, so that their memories are preserved to look back on. Talk about a beautiful and priceless gift! 
In addition to giving her energy and talents to her school, Hope is also an organ donor and a huge advocate for organ donation. She says, "I was blessed to give my brother a kidney which allowed him 25 extra years of life.  He passed away on September 1, 2022.  I want to encourage everyone who can to consider giving the gift of life by becoming an organ donor!"
Her nominator says, "words alone cannot express how amazing and inspiring she is.  Her laugh is ridiculously contagious! She's full of silly shenanigans! She's a true joy and is worthy of recognition."
Wow, Hope! Thank you for all you do - and thank you for inspiring us today!!