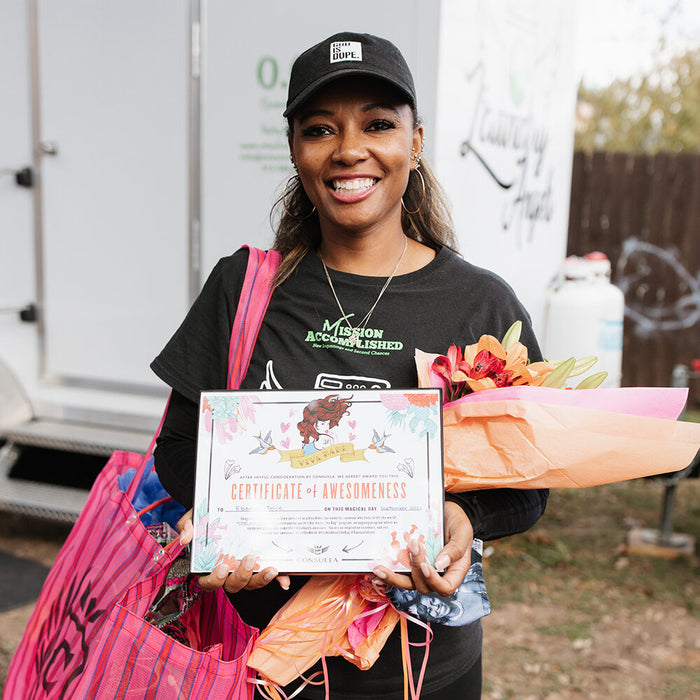 EBONIE IS A TRUE LEADER, HARD WORKER, AND A PEOPLE-LOVER...
Ebonie is the Founder and CEO of the non-profit Mission Accomplished in Austin, Texas, and was nominated by her friend, Niki. Through Operation Clean Clothes, a project within her organization, she provides a mobile laundry service that assists the homeless community with their laundry care needs, intending to increase their self-esteem and confidence. Niki says, "Currently, she provides their basic laundry needs once a month. She has now been blessed with a trailer so that she will be able to service more homeless people more frequently!"
Ebonie has a passion for service and lifting the lives of others. Niki says, "Ebonie has sacrificed her money and time in her organization, on many occasions doing it solo. She enjoys helping people! On her free days, she always volunteers with other organizations in Austin. Ebonie is a true leader, hard worker, and a people-lover, and she should be recognized!"
Mission Accomplished provides more than laundry services; The goal of Mission Accomplished is to provide individuals and families with the resources to live a more prosperous, stable, and healthy lifestyle. To that end, Ebonie and her team have also coordinated donations and provided Thanksgiving baskets to the disadvantaged in the Austin community.
Ebonie, with Thanksgiving on the horizon, and gratefulness in our hearts, we share our gratitude for you and your dedication to making life better for others.
Learn more,
http://mission-accomplished.org