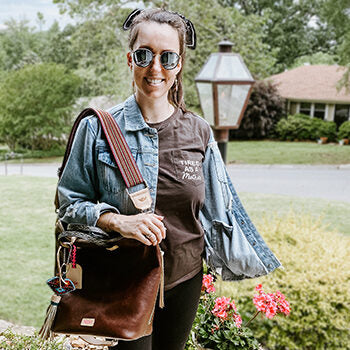 MY BODY IS STRONG, MY BABY IS STRONG! GOD IS IN CONTROL.
Devin is a proud new momma to a beautiful baby girl born May 6, and was nominated by her girl gang, 'CAB.' Devin resides in Little Rock, AR, is a successful salon owner, and was "adopted" into this fun-spirited group of special friends who taught together years ago and range in age from late 40s to late 60s. The 'CABs' are super close, getting together for all the significant life milestones, holidays, girl-trips, and even Facetime COVID gatherings. Becky, a 'CAB' and the chief nominator, shares, "Devin came to our group in a devastating way. Devin's mom, Candi, died from injuries due to a car wreck. After Candi's death seven years ago, we invited Devin (in her early twenties) to one of our events. We wrapped our arms and hearts around Devin and adopted her into our group. But she adopted us as her friends, as well. We show up to her Friendsgiving, wedding showers, and all her fun stuff!"
⠀
Becky continues, "Candi was such a colorful person, with a contagious laugh and a love for everyone without judgment. Devin is continuing to live her life with much zest, just like her mom had, and continues to keep her mom's memory alive."
⠀
Devin is a true Viva Babe, a diamond in the rough, and a shiny example of resilience and positivity! Her mantra during her whole pregnancy was, "My body is strong, my baby is strong! God is in control." Not only did she give birth to her daughter during COVID and social distancing, but she also had to close her salon for six weeks. We're thrilled to report that Devin and her husband have a healthy baby girl, and her salon re-opened this week. Hooray! ⠀
⠀
Cheers to you, Devin! We toast you for your unwavering positivity, your tenacity, and your zest for life! You inspire us.