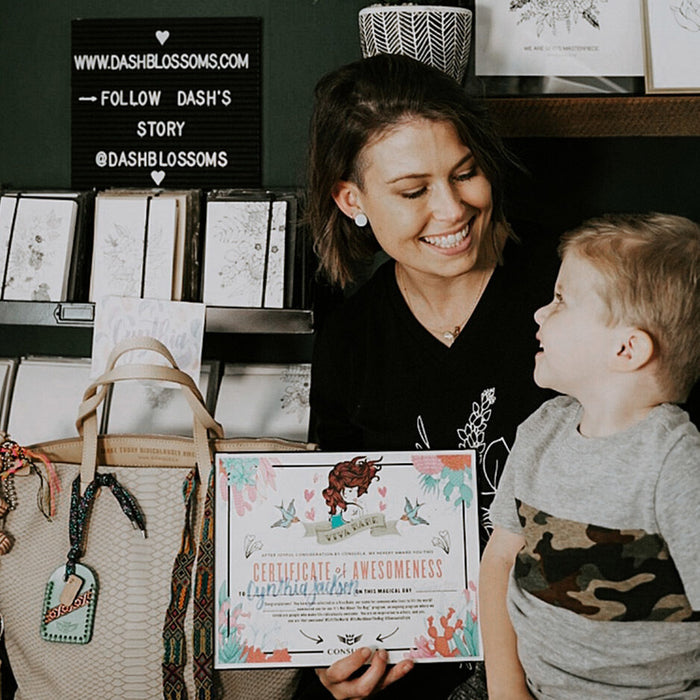 FROM THE DOODLES IN DOCTOR'S OFFICES, DASH BLOSSOMS WAS BORN
Cynthia is the owner of Dash Blossoms, an inspirational new passion and business that grew from countless hours waiting in doctors' offices with her son, Dash. Soon after giving birth to twins, her son was having feeding difficulties and showing some abnormal behavior. After about a year of tests and numerous doctor visits, they learned Dash has a rare genetic disorder and neurodevelopmental delays that put him on the Autism Spectrum.⁠
So, doctor's appointments became a regular occurrence, and Cynthia found herself passing her time in the waiting rooms, doodling pen art in a journal. Her nominator Jennifer says, "from the doodles in doctor's offices, Dash Blossoms was born. Cynthia always loved art but never took it seriously or even took art classes in school. The fact that she can now share this talent to express her journey and emotions is an obvious blessing. Cynthia is the epitome of talent, strength, and faith."
Cynthia, thank you for sharing your beautiful, inspirational artwork with the world. We love that you've discovered your incredible talent through an unforeseen journey with your son, Dash, and you are creating joy in the journey.
https://www.dashblossoms.com/⁠