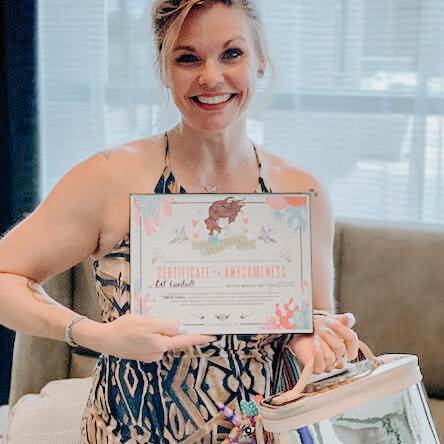 REMEMBER, YOU ARE WORTHY OF YOUR OWN LOVE, SELF-INVESTMENT, HAPPINESS, AND SO MUCH MORE.
Cat is a mom, a dance teacher, a confidence coach, and a women's empowerment leader in Cedar Rapids, Iowa. Megan, Cat's friend and nominator, shares, "At the age of 40 she started a dance studio in the conservative Midwest for women to help build our self-confidence and as an outlet for us to reignite our inner spark (that spark that we had as young girls, but is often lost in the shuffle of being mom & wife). She now helps other women recognize and build on their worth through the art of dance, fitness, confidence classes, and her empowerment programs and free online groups." Regardless of the adversities (which most recently included closing her studio and moving her classes online due to Covid-19), she is a constant positive force. Megan continues, "She knows the importance of self-investment, especially as a busy mom, and she encourages and empowers those around her to work hard for their goals, stand up for themselves, and advocate for others."
⁠⠀
Cat imparts her advice with her 'Cat-ism,' "As women, we get so caught up in the day to day operations of life. We forget who we are, and we place happiness in the hands of others. We owe it to ourselves to create the lives and happiness we deserve. Choose to live your BEST life every day. Remember, you are worthy of your own love, self-investment, happiness, and so much more. There will always be someone who can't see your worth.. don't let it be you."
⁠⠀
Yesss! Cat, you are the definition of a Viva Babe! Thank you for inspiring us!
https://catcantrill.com/cat-meets-consuela/