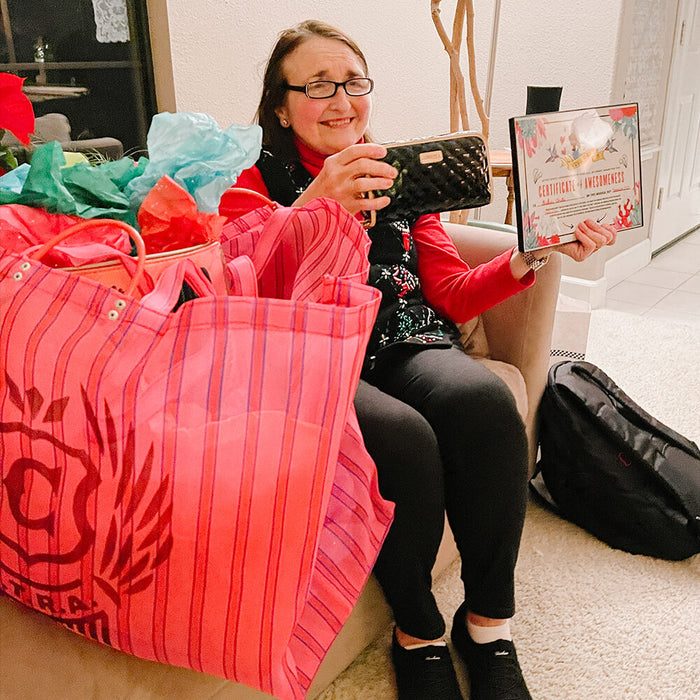 BELEN
WINDSOR, CALIFORNIA
SI SE PUEDE OR YES, IT IS POSSIBLE
Belen is a retired school administrator in Windsor, California, and was nominated by her daughter-in-law, Christina. Christina says, "She always manages to find the good in the world and people and has a perpetual smile that radiates. Belen came to this country from Spain when she was only eight years old. Raised on a dairy farm in Madera, California, her father only spoke broken English, and her mother only spoke Spanish. Belen quickly learned the importance of education and worked hard to put herself through school, eventually becoming the first person in her family to earn a college degree. She went on to become a credentialed teacher, moving her way through the primary grades until she eventually became a school principal."

Belen's actions affirm her stance on the value of education. Christina says, "After I had my son, Belen told me it was time I finished my own schooling for the sake of myself and my family. She took on the care of my son while I returned to college full time, and within two years, I had earned my bachelor's degree. Today, I am the proud owner of a master's degree from Belen's alma mater, and I owe my ability to complete my education to her (and my mother) who made it possible for me to complete my education."
⁠
Belen says, "I strongly feel that each of us can make a positive difference in others' lives, and we can leave a better and kinder world for our children and grandchildren. My mantra has always been, "Si se Puede" or "Yes, it is possible," and I never declare defeat on our human potential; and I encourage "The Village" to cooperatively raise the children. Children and families are very dear to me, and they represent my life's work."