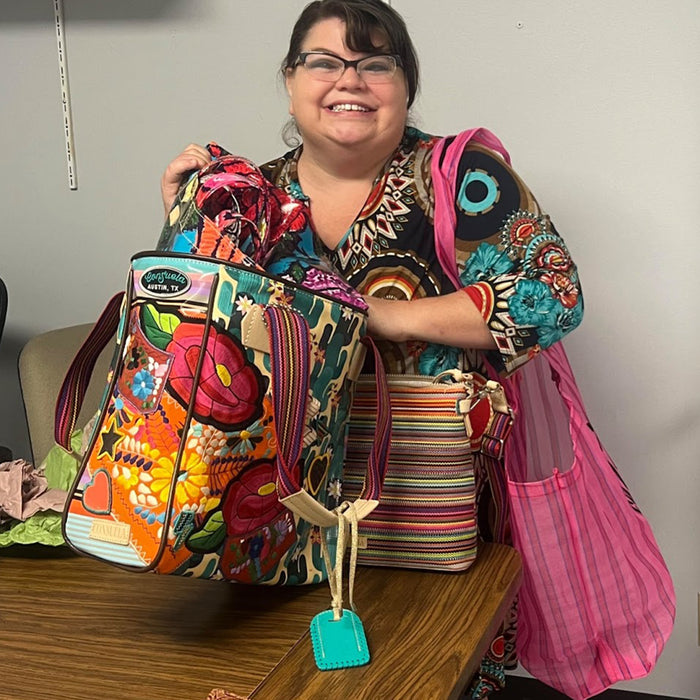 Be one step ahead of the hate
During National Domestic Violence Awareness Month, we proudly spotlight our newest Consuela Viva Babe, Ashlie. Her remarkable work at SWAN (Stopping Women's Abuse Now) is making a profound difference in the lives of individuals and families.
SWAN serves as a safe haven for women and children fleeing domestic violence, as well as unhoused families and men in rural southern Illinois. In her role as Shelter Supervisor, Ashlie consistently goes above and beyond to offer unwavering support to her clients and dedicated staff, leaving a lasting impression on every life she touches.  
Ashlie's journey with SWAN began as a Children's Case Worker. Her commitment for positive change led her to advocate for the implementation of parenting classes, a valuable resource that benefits her clients today. Shaped by her personal experiences, growing up with her mother fostering kids and fostering two children herself, she has become a compassionate advocate for those in crisis. Her dedication to ending the vicious cycle of abuse has touched countless lives through her work at SWAN.
Ashlie's exceptional dedication has not gone unnoticed. This year, she was honored as the 2023 SWAN Shelter Employee of the Year, a well-deserved recognition for her tireless commitment! We deeply admire Ashlie's remarkable journey and invite you to visit SWAN's website at
www.swandvhl.org
to learn more and show your support for this essential organization. 
Ashlie's guiding mantra, "Be one step ahead of the hate." is a reflection of her everlasting commitment to a more compassionate world.
 National Domestic Violence Hotline is 1-800-799-7233 (open 24/7)