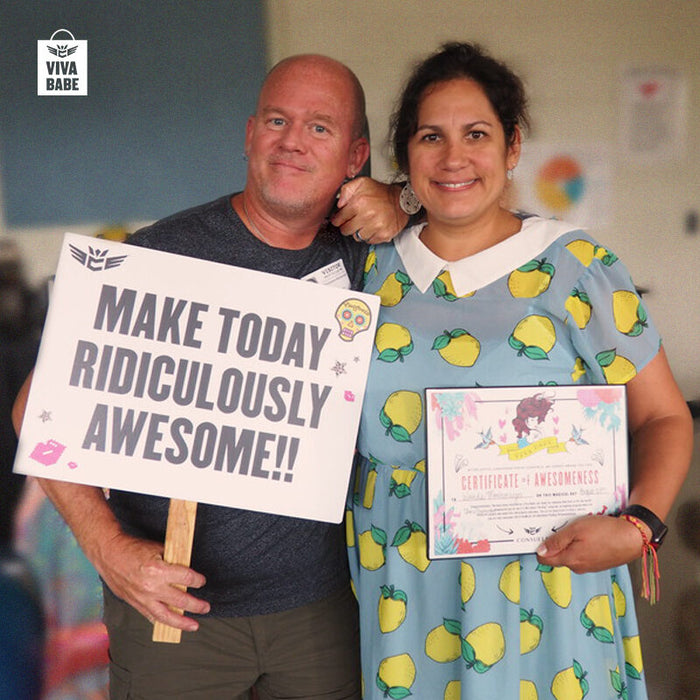 SHE'S GENEROUS, KIND, LOVING, AND THOUGHTFUL WITH ALL OF THESE THINGS. OH, AND SHE'S AN EPIC ARTIST.
Wanda is a middle school counselor in Austin, TX, and was nominated by her husband, Chris. As a school counselor for the past 12 years, Wanda offers compassion, guidance, and support to pre-teens during a super awkward time in their lives. Her energy and charisma are remarkable (as we witnessed first-hand with a spontaneous dance party in her school room)! Her incredible passion for counseling doesn't go unnoticed; she was named Counselor of the Year for Austin ISD in May of this year! Woo Hoo!
Beyond a school counselor, Wanda is so many things! She is a great mom. She is also a licensed professional counselor (LPCS), training the next generation of counselors, and a Licensed Art Therapist Supervisor (ATR/BC/S), training the next generation of art therapists. And recently, she and her dog, Chango, were certified for animal-assisted play therapy. Chris shares, "She's generous, kind, loving, and thoughtful with all of these things. Oh, and she's an epic artist." Her public art is visible all over Austin. Her murals adorn the walls and exteriors of her school and public parks. Wanda led the Deep Eddy mosaic mural project, a 4-year project where citizens from all over the city created individual hand-made tiles to form a 1200 square foot mosaic. These iconic murals beautify as well as create connections between the many participants and the community.
KAPOW! ALL THE THINGS! Wanda, your drive to be a positive force and to brighten your corner through your gifts of love, laughter, and epic artistry inspires us! Your Viva Babe light is brightly shining!
View Wanda's epic art:
http://www.communityarttherapy.com⁠