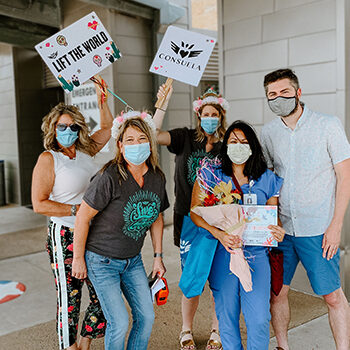 VANESSA'S COMMITMENT TO CREATING AN INCLUSIVE WORKSPACE ECHOES CONSUELA'S VALUES. IF SHE IS NOT A 'VIVA BABE,' I DON'T KNOW WHO IS.
Vanessa is committed to making a difference for others and she affirms this with her daily actions. Vanessa is a Speech and Language Pathologist (SLP) in Austin, Texas, and was nominated by her husband, Daniel. Not only does she continue to show up for her patients during the COVID-19 crisis, but she has been instrumental in leading the charge in helping her speech team diversify to meet local needs. Daniel says, "When she was hired in 2017, Vanessa was the first native Spanish-English speech-language pathologist at the company. Since then, she has overseen the hiring of three additional bilingual SLPs to meet the increasing needs of the Austin community. Patients and their parents depend on her to be able to explain difficult medical terms to them in their native language while administering effective intervention."

In addition, she goes above and beyond to lift others! Recently, when one of her colleagues was unable to travel to her wedding out of state, Vanessa and a teammate set out to throw her a wedding shower.

Her long days are spent helping the entire spectrum of ages, from babies to the elderly, with swallowing and speech issues, and in two languages. Daniel continues, "Vanessa's commitment to creating an inclusive workspace echoes Consuela's values. If she is not a 'Viva Babe,' I don't know who is."

Yassss! We couldn't agree more! We feel so privileged to call you our Viva Babe, Vanessa!