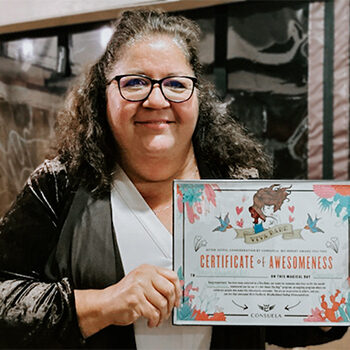 SHE IS TIRELESS IN HER EFFORTS TO HELP IN ANY WAY IN HER COMMUNITY. HER COMMITMENT NEVER FALTERS.
Tracy lives in Katy, Texas, and was nominated by her long-time friend, Laura. Tracy works full-time as a Legal Assistant for a law firm and still finds the time to give back in a BIG way! She is involved with the local Big Sister youth mentoring program, and when her little sister moved away recently, she maintained contact with the local family still residing in town. When she learned the siblings were sleeping on the floor, she and her husband purchased beds for them, as well as ensured the fridge and pantry were well-stocked.

On the weekends, you can find Tracy volunteering at TMR (Texas Miracle Ranch), a rescue organization that cares for neglected and abused donkeys. She is the Volunteer Coordinator, recruiting and managing the myriad of volunteers. Tracy says her time working with the donkeys is therapeutic!

"She is tireless in her efforts to help in any way in her community. Her son works in law enforcement, and she frequently brings baked goods to the officers. Her commitment never falters," Laura says.⁠

Tracy reminds us to "Do what you love!" When you pursue your passion, your heart is filled with joy, and you can make an incredible difference.

Yesss! Tracy, your passion and your commitment to lifting others is so refreshing. Thank you for your overflowing generosity!