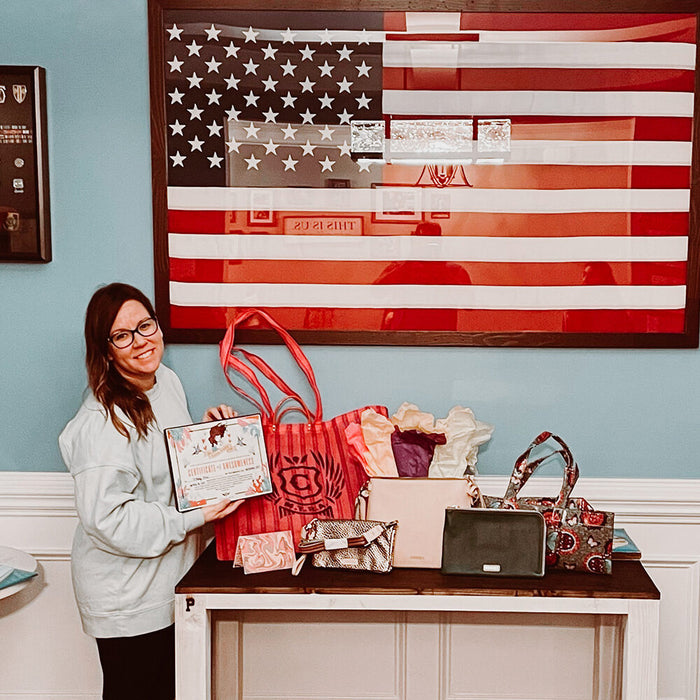 TIFFANY
MOORESVILLE, NORTH CAROLINA
I LIVE MY LIFE WITH THE PERSPECTIVE THAT WE NEVER KNOW WHAT SOMEONE IS SILENTLY BATTLING AND TRY TO APPROACH OTHERS WITH THAT MINDSET.
Tiffany is a Licensed Clinical Social Worker in Mooresville, North Carolina; she works with homeless veterans and was nominated by her childhood friend, Viva Babe Natalie. Natalie says, "Tiffany has such a deep passion for veterans, and this is her driving force. Her passion began with her father, a Vietnam veteran, and Purple Heart who passed away in 2001 from issues stemming from untreated PTSD. And, also from her husband Chris, after his deployment, came home a Wounded Warrior from suffering a head injury and PTSD. At this point, she felt she had to advocate for Chris to get his sustaining medical care. This is absolutely her passion, advocating for these veterans and helping with mental health issues. She pours every ounce of her mind and spirit into helping these amazing people."
⁠
Tiffany's heart for people carries over into her personal life. Natalie says, "She helps with national disaster response teams when needed across the US. She is just a bright light in a dark time for a lot of people. She has a great love for children, and she and her husband took on the task of becoming foster parents for children. They did receive the biggest blessing through this, their beautiful daughter. Plus, they recently have taken in a foreign exchange student from Italy!" ⁠
⁠
Tiffany says, "I live my life with the perspective that we never know what someone is silently battling and try to approach others with that mindset." Her favorite quote/mantra is from Brené Brown: ⁠
⁠
"Empathy has no script. There is no right or wrong way to do it. It's simply listening, holding space, withholding judgment, emotionally connecting, and communicating that incredibly healing message of 'you're not alone.'"