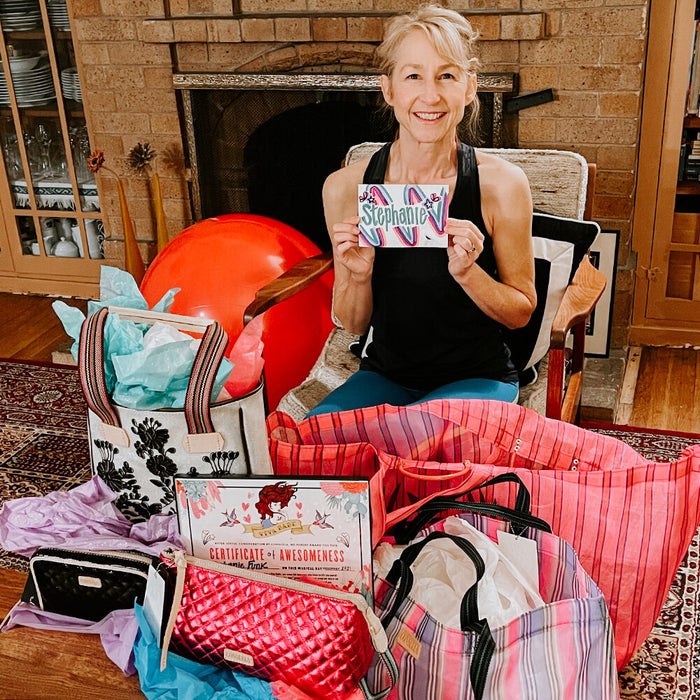 STEPHANIE
SAN FRANCISCO, CALIFORNIA
WHILE MANY TEND TO OVERLOOK THE ELDERLY, SHE SEES PEOPLE WHO HAVE A LIFETIME OF WISDOM TO OFFER. THEY HAVE LIVED INTERESTING, VIBRANT LIVES AND STILL HAVE A HUNGER FOR LEARNING AND A NEED FOR COMMUNITY, NOT TO MENTION A NEED FOR EXERCISE! SHE IS NOT GETTING RICH OFF OF HER WORK, SHE KEEPS HER PRICES LOW SO THAT EVEN HER STUDENTS ON VERY LIMITED SENIOR BUDGETS CAN STILL ATTEND.
Stephanie is a certified fitness instructor and was nominated by her sister, Erica. Erica says, "She teaches affordable fitness classes to hundreds of elderly people in community centers in the San Francisco Bay area and now, thanks to the pandemic, over Zoom. The average age of her students is 78. Many are over the age of 90! She is caring and compassionate, and devoted to her students. As a result, her students are staunch devotees, and her classes fill up FAST."
The pandemic hit her fitness community hard with the centers closing and in-person classes canceled, but Stephanie found a way! Erica says, "Stephanie knew she could not let her elderly students lose both muscle strength AND the community they had built together over the last fifteen years. Not to mention their mental health. So, she (not a techie) taught herself how to set up and host online classes through Zoom from her rented apartment. Because she had no idea if any of her elderly students would actually show up (due to tech ability or phobia), she personally reached out to hundreds of students and offered her technical assistance where needed. She would tell them, 'We are learning this together!' She had 165 students sign up!"
Stephanie is passionate about her students and the wealth of life experiences they share. Erica says, "While many tend to overlook the elderly, she sees people who have a lifetime of wisdom to offer. They have lived interesting, vibrant lives and still have a hunger for learning and a need for community, not to mention a need for exercise! She is not getting rich off of her work, she keeps her prices low so that even her students on very limited senior budgets can still attend."
Stephanie motivates her students to keep their bodies moving, and their minds engaged, and shares one of her teaching mantras, "Come to class, do what you can -- any amount of movement is good and cause for celebration!"
https://www.fitnessmuse.com/