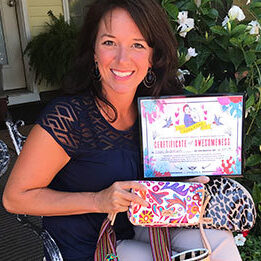 IF YOUR HORN NEEDS TOOTING, SOMEONE WILL TOOT IT FOR YOU. YOU DON'T NEED TO DO IT YOURSELF.
Today's Viva Babe, Staci, is the mother of five, an entrepreneur, and all-around hometown hero of Nevada, Missouri!

Seeing an opportunity to further involve herself in her community, Staci opened a feed and garden store next to her home and husband's veterinary practice. She shared, "Most every feed and garden stock stores in the area are owned by men. I wanted to create a family-friendly business that caters to women and kids, so we turned an old farmhouse next to ours into a store, set up a play area around our greenhouses, and added some goats to the barn!" How awesome is that!?!

Staci is highly passionate about kids and involves herself in various community-aspects to promote and support them. During summers, Staci and her family open their home to boys who participate in Nevada's summer college league team. Her nominator Donna says: "I've only known Staci a few days but I knew immediately she was an incredible woman! She opened her home to my son who was in Nevada to play ball, and I was instantly assured he'd be well cared for—she's wonderful!"

One of Staci's favorite quotes came from her grandma: "If your horn needs tooting, someone will toot it for you. You don't need to do it yourself."

We're tooting your horn loudly for all to hear, Staci! We're so happy to celebrate you!