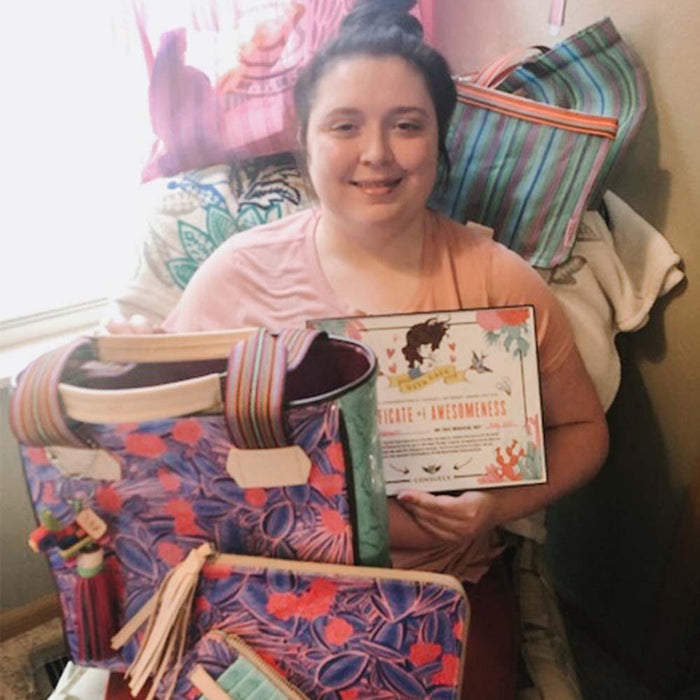 SOPHIA
REEDS SPRING, MISSOURI
SOPHIA HAS A LOT OF PERMANENT MEDICAL ISSUES BUT IS THE KINDEST HUMAN BEING WITH THE BEST ATTITUDE.
Sophia is a college senior in Missouri, studying Psychology to become a therapist, and she was nominated by her mom, Antoinette. Sophia is a cancer survivor and a beautifully generous human. Antoinette says, "She started the community/school district HELPING HATS program when she was 12, raising money each month for a different nonprofit. To date, Sophia has raised over $80,000."
⁠
Her mom continues, "She was diagnosed with Leukemia at 14 and suffered a stroke, lost the use of her legs, and had open-heart surgery. All of this was due to the chemo. She spent four years fighting and now is in remission."
⁠
"Sophia has a lot of permanent medical issues but is the kindest human being with the best attitude," Antoinette says. "She won Missouri Youth Volunteer of the Year a month before she found out she had cancer and missed an all-expense-paid trip to receive her award in Washington D.C. She is the only person to receive the Everyday Hero award twice from the Red Cross. She flies under the radar and does not care for thanks or attention."⁠

But, Sophia, you are deserving of ALL the gratitude! Your generosity is extraordinary, and your strength is undeniable. You inspire us.
⁠
Remember this: You are awesome!⁠