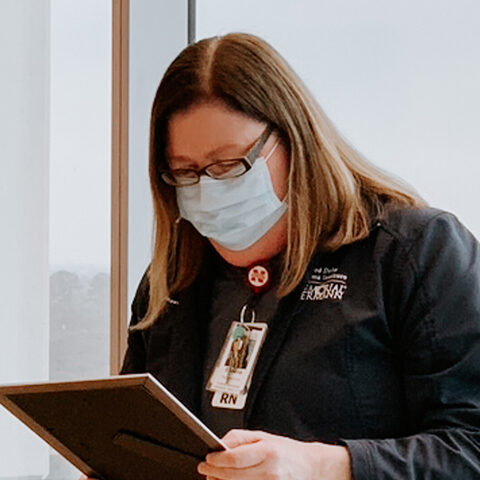 SHE BELIEVES STRONGLY THAT HER TEAM IS ONLY AS STRONG AS THEIR WEAKEST LINK, AND SHE STRIVES TO INSPIRE AND LIFT HER STAFF UP.
Shawna works tirelessly as a Registered Nurse Manager for Houston's busiest trauma unit at Memorial Hermann – Texas Medical Center, and she was nominated by her sister, Taresa. "In this first year that she has been in this role, she has orchestrated, with grace, the move of her entire unit into a new building, and she has taken the Covid pandemic in stride," Taresa says. "She works countless hours each week, takes calls when she is not on call, and endlessly advocates for her staff and patients. She is both a teammate and a team leader. When her staff is expected to spend the night during inclement weather, she sleeps on her office floor. She believes strongly that her team is only as strong as their weakest link, and she strives to inspire and lift her staff up."
⁠⁠
Her selflessness and compassion extend into her personal life, too! Shawna gives her time and energy to underserved communities, both internationally and locally. Taresa says, "She has been on several mission trips to Nicaragua to build strong, loving relationships and work alongside brothers and sisters in impoverished communities. From digging trenches to working in the free health clinic, Shawna makes helping others a priority." Locally, Shawna has volunteered with the Houston Food Bank and served on her church's medical team.
⁠⁠
Shawna, thank you for living to lift others! You've graciously and humbly earned all the jewels in your crown.