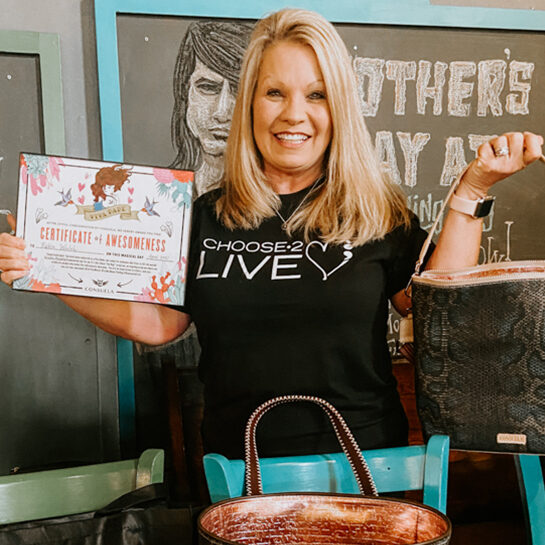 ROBIN
LEE'S SUMMIT, MISSOURI
IT'S OKAY TO NOT BE OKAY.
Robin lives in Lee's Summit, Missouri, and was nominated by her friend, Kristine. Kristine says, "Robin is a high energy passionate woman who has been through a lot in her life, including surviving suicide. She has made it her mission to get her story out via her book she wrote, 'My Morning Song Psalms 23; My Journey Back From Suicide'. She is incredibly brave to share her personal story with the world." In addition to providing inspiration through her writings, she also started a non-profit, Choose 2 Live, with the mission to bring hope and encouragement to those struggling with mental illness, depression, suicide, or self-injury.
Robin stands firm in her faith and her belief that her journey is part of a bigger plan. She says, "We are all created for a purpose, and it took me many years to figure out what mine was. I am so blessed to have been given a chance to help others and to encourage and support them in the rough patches they face." She reminds us that "It's okay to not be okay," and she makes it a priority to help anyone who is struggling in any way she can.
Robin, we are incredibly grateful for you. Thank you for embracing vulnerability and sharing your hard journey so that others can find hope and peace.
https://www.choose2live.org/
https://www.facebook.com/choose2live.org