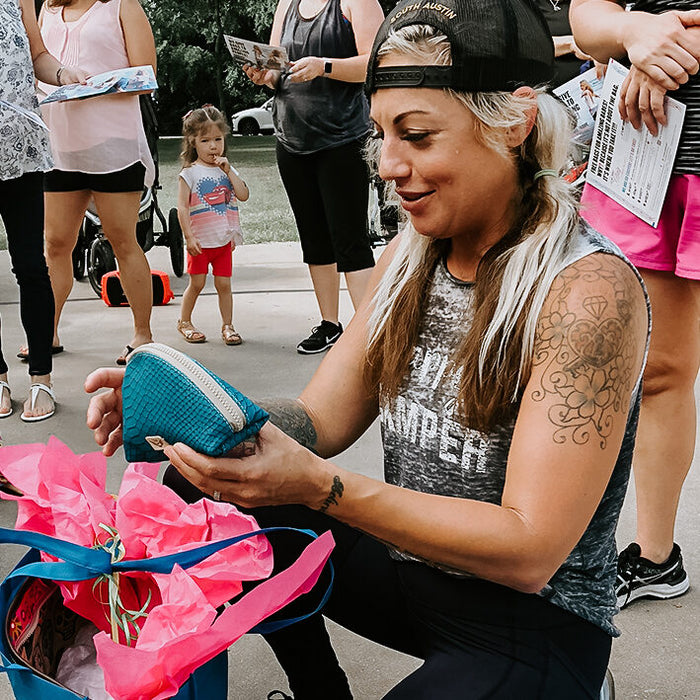 AIN'T NO HOOD LIKE MOTHERHOOD AND WE JUST CANNOT DO IT ALONE. FEELING SO GRATEFUL FOR OUR VILLAGE; THAT IS A LIVING AND BREATHING EXAMPLE OF THE SISTERHOOD OF MOTHERHOOD.
Rachel is the rock of her "village"! She started a fitness business for moms a few years ago, initially with only 3 moms participating. She was patient and persistent and has now grown her tribe to over 120 moms, and recently celebrated her 3 year anniversary! Rachel shares messages of encouragement and her positive attitude are a light for so many moms during a huge transition in their lives. Her love, her warmth, and her caring nature are just added bonuses. Rachel humbly exclaimed, "Moms just need hugs!" when we surprised her after leading her stroller fitness group.

Her fitness program helps women find "strength in motherhood". By creating safe spaces where moms can connect with one another and get in touch with the healthiest versions of themselves, they unlock the power of a collective motherhood. Rachel shared, "Ain't no hood like motherhood and we just cannot do it alone. Feeling so grateful for our village; that is a living and breathing example of the sisterhood of motherhood."

Wow! We see you, Rachel!! Thanks for being a rock to your community of moms, who are comforted and encouraged by your love, support, and your contagious positivity!