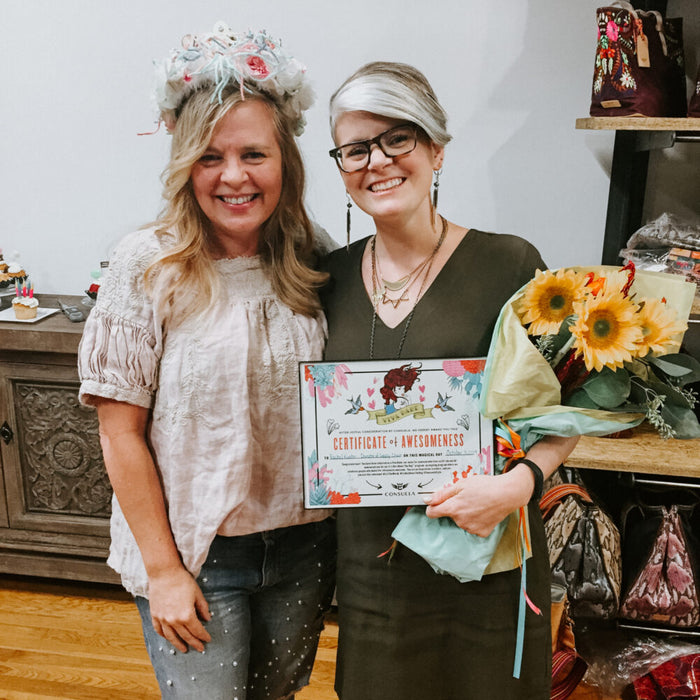 RACHEL INSPIRES US EVERY DAY! SHE IS KIND, COMPASSIONATE, AND ALWAYS POSITIVE. SHE CONTINUALLY TURNS TOWARD THE LIGHT AND AVOIDS NEGATIVITY WHILE LOOKING FOR SOLUTIONS TO DAILY CHALLENGES
Rachel leads the production department at Consuela and was nominated by our CEO, Conni. Conni shares, "Rachel inspires us every day! She is kind, compassionate, and always positive. She continually turns toward the light and avoids negativity while looking for solutions to daily challenges." Beyond her dedication to her job and her incredible work ethic, she inspires us with her determination to lead a healthy lifestyle, reinforced with her love of AcroYoga. If you're new to the term, AcroYoga combines yoga with healing arts and a lot of lifts with at least one partner. In AcroYoga, you learn to trust, communicate, and encourage others, while also navigating challenges. ⠀
⁠⠀
Rachel has translated the teachings of AcroYoga to her work life, overcoming obstacles and tackling challenges head-on with a calm that is rarely found, a precious gem of patience! Yet, she's resilient in her efforts to find solutions. Rachel inspires her co-workers every day through her cheerful attitude and dedication and is an integral part of the team and the success of Consuela. ⠀
⁠⠀
So, for these and so many other reasons, we celebrate Rachel. Not only because it was her birthday and because she's a true Viva Babe, but also for the big announcement that day…Rachel's promotion to Director of Supply Chain! Whoop!