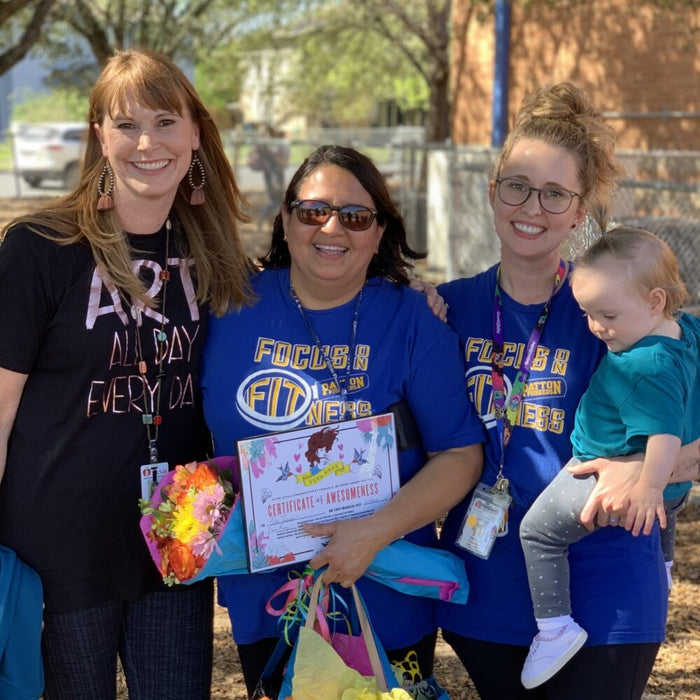 I ALWAYS TELL MY OWN CHILDREN THAT THE WORLD IS ROUND AND IF YOU GIVE GOOD YOU GET GOOD.
Ms. Eva is a preschool manager and teacher in Austin, Texas and she is oh-so-loved by her students and parents alike; In fact, over FIFTY parents and former students showed up to honor and celebrate her! Her nominators, Dani and Stacy, share, "For over a decade, Ms. Eva has expanded the horizons of hundreds of children at the Patton Elementary Child Development Center. She teaches them in English, Spanish, and sign language that they have no limits!" Her former students are the "kind of kids that play hard, take risks, speak up when they should, look you in the eye, tell the truth, use great manners, and help their friends."

We witnessed the love and support of Ms. Eva firsthand as the exuberant crowd paraded from the gym to the playground to surprise her. What a joyful and touching experience! Ms. Eva shared this with us, "I love working with children, it's so fulfilling. I hope that I am making a positive impact on these little lives. I always tell my own children that the world is round and if you give Good you get Good." Yassss‼️ Ms. Eva, thank you for giving GOOD!