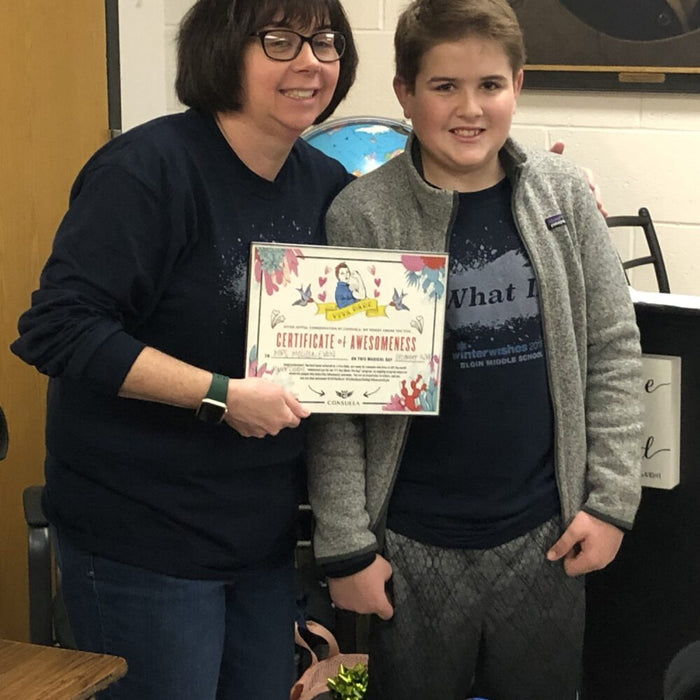 TO BE A PART OF THIS IS MY JOY, MY PASSION. EVERY KID HAS A STORY.
Melissa is a teacher in Elgin, Oklahoma and she's made such an impact on her students that she was nominated by one of them, a 7th-grade student, Ryder. Ryder shared that "Melissa" (he doesn't call her by her first name) is "a wonderful teacher, who finds special ways to reach all of her students." While this would be reason enough to celebrate Melissa, she has elevated her role as a teacher to support the school at an entirely new level! Melissa, along with a fellow teacher, founded Winter Wishes, a tradition at their middle school, now in its third year. Winter Wishes is a program in which all middle school students write a wish for a fellow student (a friend or someone who could use a little extra kindness) and also write a wish for themselves. The entire school looks forward to December, when they grant as many wishes as possible.

Melissa leads the charge in requesting donations and funding and all of Elgin comes together to support the Winter Wishes program. Ryder says "Melissa is there at every function, fundraiser, behind it all, making it happen and spreading kindness through our community and our school". Melissa said the program started based on a kindness curriculum. She shared "to be a part of this is my joy, my passion. Every kid has a story". Wow! We applaud you, Melissa, for spreading kindness and joy throughout your school and community!