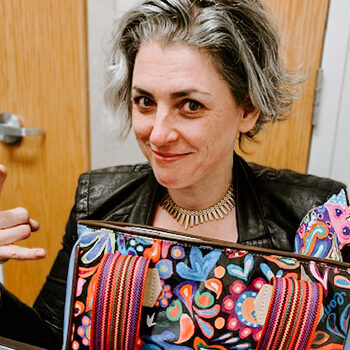 MICHELLE
MADISON, WISCONSIN
MICHELLE MAKES SURE THAT WHAT WE'RE DOING IS ALWAYS FOR THE GOOD OF THE PEOPLE WE SERVE, PROVIDING 'QUALITY AND VARIETY,' AS SHE LIKES TO SAY, TO ENSURE PEOPLE WHO ARE STRUGGLING DON'T HAVE TO FEEL 'LESS THAN' ANYONE ELSE WHO WANTS TO EAT WELL AND FEED THEIR FAMILY
Michelle is the CEO of Second Harvest Food Bank of Southern Wisconsin and was nominated by one of her team members, Danielle. Danielle shares, "Michelle recently became CEO of our food bank. She has brought us together, our staff of about 50 people, and inspires us every day to keep working on really hard things. Michelle makes sure that what we're doing is always for the good of the people we serve, providing 'quality and variety,' as she likes to say, to ensure people who are struggling don't have to feel 'less than' anyone else who wants to eat well and feed their family."
⁠
Michelle leads by example and is eager to jump in and assist her team with any task. Danielle continues, "She is a 'doer' if I ever saw one. She is hands-on, helping staff wherever it's needed. Michelle has brought us a renewed sense of community and energy to our work."
⁠
Michelle, thank you for your dedication to others! You've illuminated your community, and you've inspired us to strive to follow your shining example.