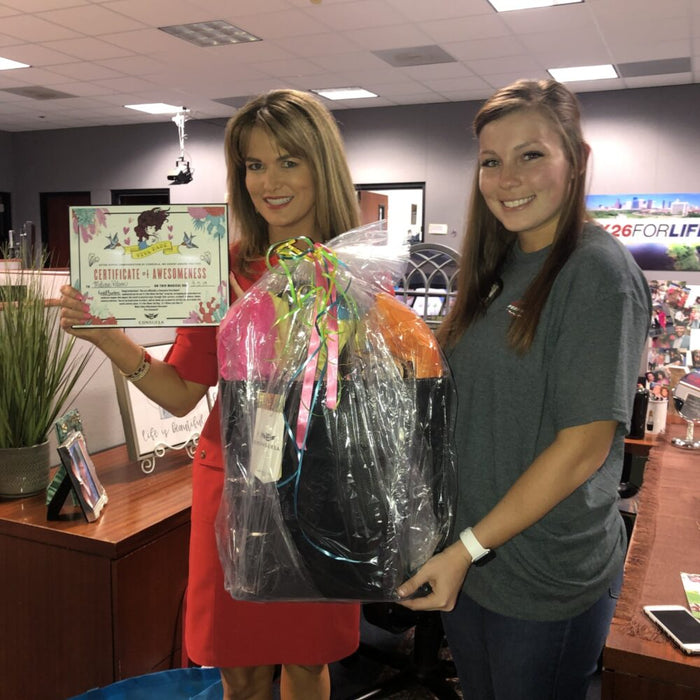 I RELY ON MY FAITH, FAMILY, AND FRIENDS TO ENDURE DEALING WITH CHILDHOOD CANCER. IT'S NOT SOMETHING ANYONE WANTS TO GO THROUGH, BUT I BELIEVE EVERYTHING HAPPENS FOR A REASON. THAT'S WHY MY FAMILY TRIES TO LOOK FOR THE SIMPLE GOOD IN EACH DAY TO GET US THROUGH OUR DARKEST HOURS.
Melissa is an Emmy award-winning television news anchor for a major network in Houston, Texas. She is admired by her television fans and an inspiration to women with her balancing of motherhood and a full-time career. In 2013, this balance was challenged and her world was rocked when she learned her youngest son, Caleb, had leukemia. Her nominator Kendall shares, "Melissa is a blessing to everyone she meets and you would never know her child is battling cancer. She never missed a treatment, appointment, baseball game, and still did the morning news for Houston EVERY SINGLE morning. Plus, Melissa is a huge advocate in the community, helping other families dealing with childhood cancer."
⁠
Their family journey is hard to imagine, but Melissa carries herself with such grace and courage. Melissa shares her coping skills, "I rely on my faith, family, and friends to endure dealing with childhood cancer. It's not something anyone wants to go through, but I believe everything happens for a reason. That's why my family tries to look for the simple good in each day to get us through our darkest hours."
⁠
That's a wrap! Look for the good in each day! You inspire us, Melissa. ⁠
⁠
Check out Melissa's post of her Viva Babe recognition on her Facebook page.