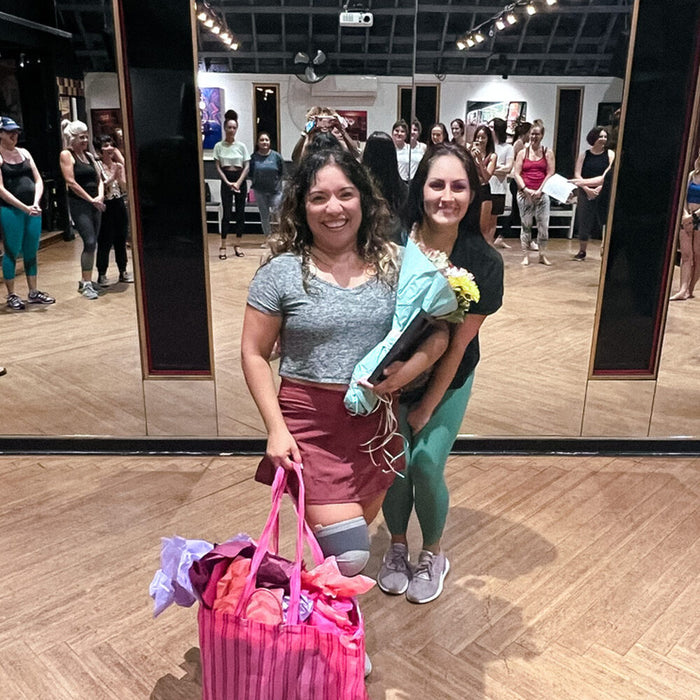 SHE RADIATES JOY AND POSITIVITY EVERYWHERE SHE GOES. HER LAUGH IS CONTAGIOUS AND SHE ALWAYS HAS A NO-JUDGMENT VIBE. SHE IS A LEADER AND A POSITIVE INFLUENCE ON OUR COMMUNITY!
Drumroll, please! Join us for an epic samba dance party and Consuelabration for Melissa, aka Meli!
Meli is "one of the most prominent Austin samba instructors," her nominator Carrie Beth says. "She radiates joy and positivity everywhere she goes. Her laugh is contagious and she always has a no-judgment vibe. She is a leader and a positive influence on our community!"
Carrie Beth found Meli during COVID when she was unable to dance with her current samba community. She says, "I found Meli doing all sorts of fun online dancing through Esquina Tango (a nonprofit dance school). She would have us send videos and put together our videos to make a wonderful presentation. She not only had us looking through a screen at her but still interacting with each other. That was what I needed. After that, I was hooked on Melisamba! She helped me grow as a dancer more than ever. She has taught me the true joyful side of samba. She has taught me to get out of my head and just have fun."
Carrie Beth says, "To fully understand what Meli radiates you have to understand samba. Samba is an expression of joy, love, elegance, and confidence. It is also about bringing those expressions to the community and exchanging them with the people around them to share positivity within the community."
"I would love to see Meli recognized for her nonstop positive, cheerful attitude and her constant diligent efforts to lift up everyone she meets. She loves to make other women feel important and beautiful!"
Meli shares a quote she says in almost every class, "Look up and Smile!"
Learn more,
https://melisamba.com/