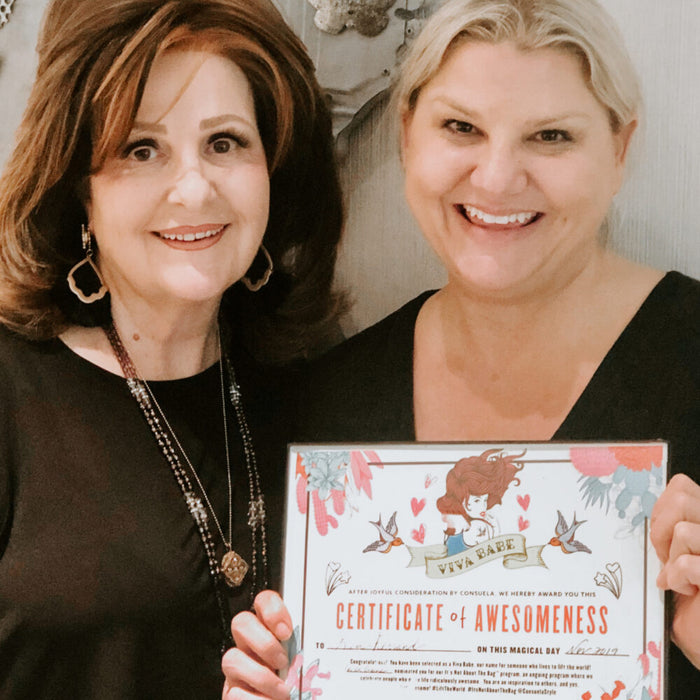 LISA HAS HELPED MANY LADIES OF ALL AGES KEEP THEIR HAIR AND FACE THEIR CANCER DIAGNOSIS WITH GRACE AND CONFIDENCE. A PRICELESS GIFT.
Cancer Warrior? Yep!⁠
Hero? Yep!⁠
Viva Babe? Yep!⁠

Lisa lives in Ft. Worth, Texas, and was nominated by her friend, Darla. A breast cancer survivor, Lisa started Warrior Caps to allow other women to retain most of their hair during chemo treatments. Hair loss is devastating and one of the most feared side effects of chemotherapy, especially for women. Darla shares, "She and her brother, Jeff, tirelessly attend to every patient personally during their treatments - carrying the ice chests which hold the "cold caps," switching the caps out during chemo sessions, and providing invaluable support to cancer warriors. She is now providing caps all over the U.S. and has set up a family trust to provide them at no cost to women who cannot afford to pay."
⁠
Darla continues, "Lisa and her 90-year-old grandma sewed the warrior caps at home and traveled many miles to help others in need." Darla says she knows several women whom Lisa and Warrior Caps have impacted; She's lifted them through the journey; She's a hero. She says, "Lisa has helped many ladies of all ages keep their hair and face their cancer diagnosis with grace and confidence. A priceless gift."
⁠
What an incredible gift, Lisa. Thank you.