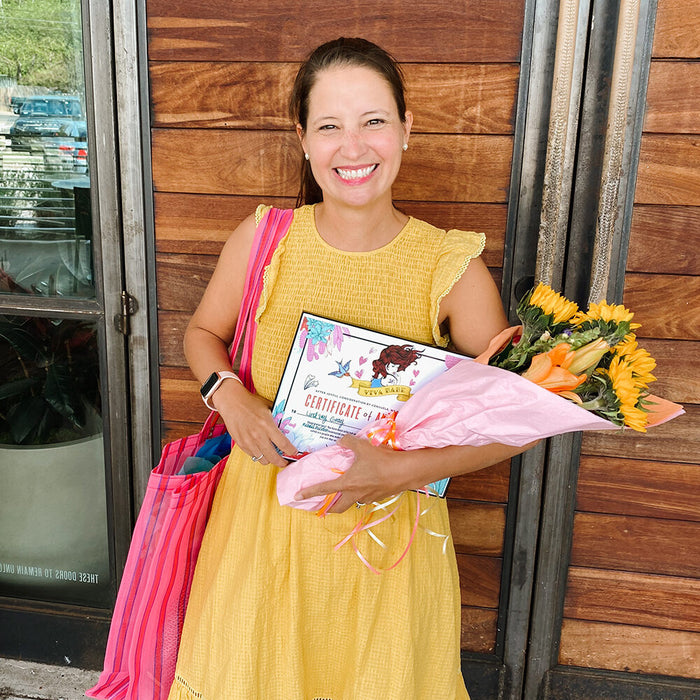 I FEEL SHE EMBODIES THE SPIRIT OF THE 'IT'S NOT ABOUT THE BAG' PROGRAM BY NOT ONLY BEING A STRONG, AMAZING ROLE MODEL, BUT SHE'S ENABLING AN ARMY OF LIKE-MINDED PEOPLE TO FIGHT THE GOOD FIGHT.
Lindsay is an immigration attorney running a small firm in Austin, Texas, and is the founder and CEO at VECINA. She was nominated by Michael, who says, "Lindsay is a lawyer I met and befriended while being a room parent at our school. She was always so super active and engaged with our class and helped me establish reading centers for our kids as the teacher was dealing with health problems right up until school began and was badly behind. Fast forward a little bit, we became a little closer, and I found out she's been working with immigration law. She has been to DC to speak on the issues facing other attorneys representing families separated at the border. She recently established a non-profit, VECINA.org, which, among other things, provides mentorship for other attorneys that want to do pro bono immigration work.

VECINA's mission is 'empowering immigrant justice advocates through mentoring attorneys, educating communities, and mobilizing volunteers.' Michael says, "I feel she embodies the spirit of the 'It's Not About the Bag' program by not only being a strong, amazing role model, but she's enabling an army of like-minded people to fight the good fight. She's a caring person who fights tirelessly for those chasing the American dream."

Thank you, Lindsay, for your leadership, mentorship, and dedication to lifting the lives of countless families! We appreciate you!!