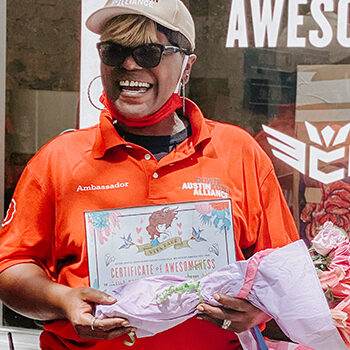 THERE ARE OVER 50 AMBASSADORS DOWNTOWN, AND LEOLA IS THE MOST WELL-KNOWN. SEVERAL INDIVIDUALS EXPERIENCING HOMELESSNESS CALL HER THEIR SISTER.
Leola works for the Downtown Austin Alliance Ambassador Program and was nominated by her manager, Nick. The Ambassadors are stewards for downtown Austin, the location of our flagship store, and are dedicated to the betterment of our community. Nick shares, "Leola had a career in banking but ran into some personal hardships. She rebounded her life," and in 2016 started working for the Ambassadors. Leola earned the respect of her supervisors through her leadership and hard work, garnered promotions, and is currently the Operations Supervisor.

Nick continues, "There are over 50 Ambassadors downtown, and Leola is the most well-known. Several individuals experiencing homelessness call her their sister." The Police Command downtown appreciates her ability to talk to people with strength and sensitivity. "Understanding where she was several years ago, it's amazing to see her now. It is amazing to see how much she has overcome and I'm thankful to work with her," Nick shares.

Leola, your light reflects on beautiful downtown Austin and beyond. Your pay-it-forward mantra screams volumes about you, and you've etched your name in our hearts. We are all the better for knowing you!