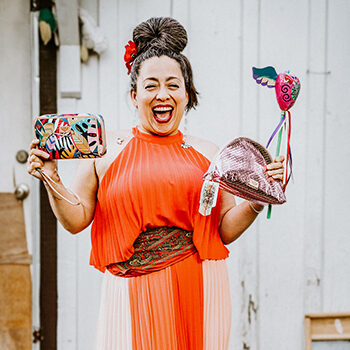 SHE FOUND A WAY TO BRING A GLIMMER OF HOPE INTO HER LOCAL COMMUNITY BY SELFLESSLY MAKING AND GIVING MASKS TO PRETTY MUCH ANYONE WHO NEEDED THEM.
Laisa is charmed with creativity and style and uses these gifts to generously contribute to her community. She lives in Harlingen, Texas, and was nominated by her sister, Nadia, who says, "She found a way to bring a glimmer of hope into her local community by selflessly making and giving masks to pretty much anyone who needed them. From her own stock, and some donations, she made over 1600 masks for her local community. Though exhausted from the demand, she never complained because that's not her style, rather she allowed herself to feel fulfilled by what she was doing for others. She loves her people, where she's from, who she is because of them, and this was a small way of showing it."
⁠⠀
To add to her amazingness, Laisa also shares her love of animals by supporting local animal shelters, giving back through sales of her products, fashion shows, and as a foster. She's a self-proclaimed 'foster failure'; She loves her fosters so much, she ends up adopting them all.
⁠⠀
Laisa, you are the definition of ridiculously awesome. Thank you for always showing up for others, with an incredibly big heart and unending generosity!