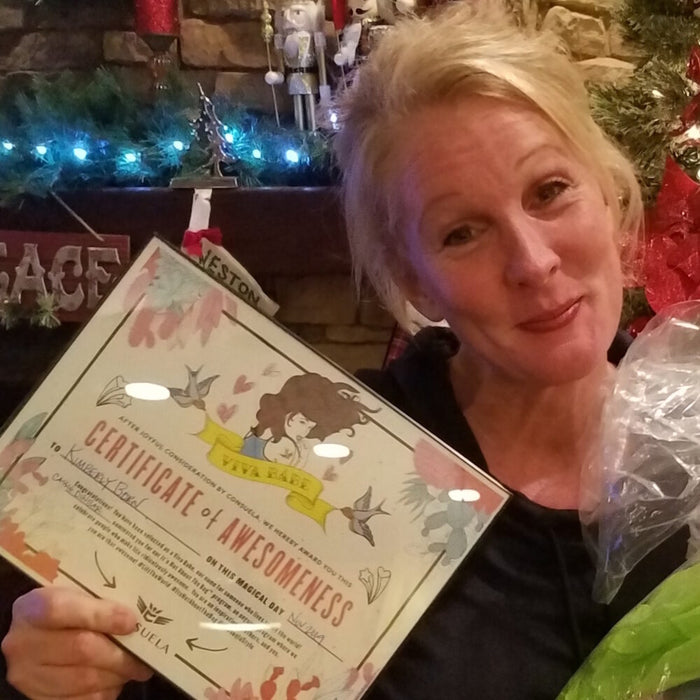 KIMBERLY
NICOLAUS, CALIFORNIA
SHE IS KIND, COMPASSIONATE, AND IS THE KIND OF FRIEND WE ALL WISH WE HAD. SHE IS THERE FOR ALL OF US (HER GIRL'S GROUP), ANYTIME, DAY OR NIGHT. SHE IS A SHOULDER TO CRY ON, AND A GIRL TO GIGGLE WITH.
Viva Babe Kimberly is Thelma to everyone's Louise! She's a Marine who is always faithful and always loyal, Semper Fi through and through!
⁠⠀
Kimberly is a manager for the California Department of Education, she resides in Nicolaus, CA, and has been nominated by her 'Louise,' Cassie. While in the Marines, she met her husband, and they and have built a beautiful family of six, which includes triplets! If that isn't extraordinary enough, she put herself through school and earned a Ph.D. in education. Cassie tells us, "She is kind, compassionate, and is the kind of friend we all wish we had. She is there for all of us (her girl's group), anytime, day or night. She is a shoulder to cry on, and a girl to giggle with."
⁠⠀
Cassie and Kimberly have future big plans to break from the kids and travel; we couldn't be prouder to supply Kimberly for her selfless acts of kindness with a bag to get her started. Bon Voyage! Keep your shoulders up for your girl gang, kids, and husband. We could all use a friend as faithful and loyal as you!