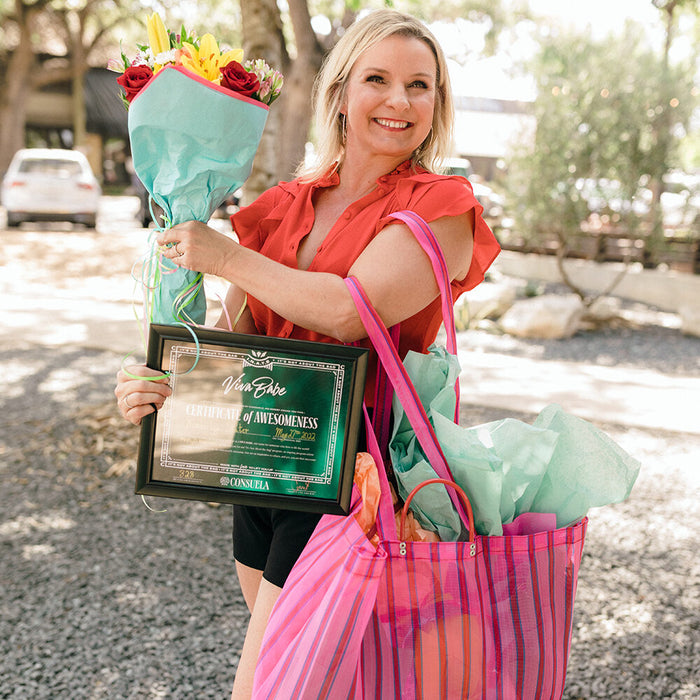 SHE GAVE ME THE BEST GIFT ANYONE COULD HAVE EVER GIVEN, THE GIFT OF HER SONS, THE GIFT OF MOTHERHOOD, AND I WILL FOREVER BE INDEBTED TO HER
Viva Babe Kimberley's love knows no bounds.
Kimberley lives in Austin, Texas, and was nominated by her friend, Misty. Misty says, "The woman I would like to nominate is my husband's first wife, Kimberley. We have been friends for 17 years, as long as my husband, Ed, and I have been together."
"To fully understand the story, I must go back to when I was 27 years old and found out I was a carrier of a terminal disease that I could potentially pass on to my children. I knew after the passing of my nephew that I wouldn't allow myself to have children. At that point in my life, I had to let the dream of being a mother go."
"Ed and Kimberley, as a result of their love and marriage, had two sons. The boys were four and six years old when Ed and I started dating. Very soon after that, Kimberley and I started our relationship."
"What makes this woman so amazing is, that she has allowed me the honor and privilege of being a mother, a dream I thought I would never get to experience. She has allowed our sons to love me and me to love them, with no limitations or boundaries. She has been so gracious to put aside any of her own fears, insecurities, or jealousies she might have had in order for our sons to live a life full of peace, harmony, family, unconditional love, care, and support. We have always been, and always will be, a 5-member family, Kimberley included!"
"I nominate my friend, my co-parent because she gave me the best gift anyone could have ever given, the gift of her sons, the gift of motherhood, and I will forever be indebted to her."