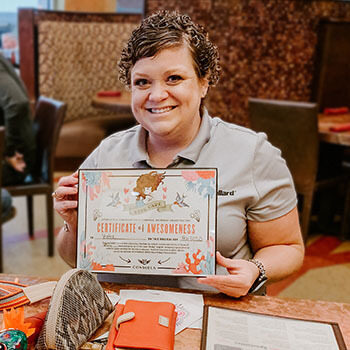 NO CHALLENGE IS TOO MUCH FOR HER TO TACKLE, INCLUDING HER ONGOING BATTLE WITH A RARE CANCER DIAGNOSIS. SHE CONTINUES TO KEEP HER HEAD UP, KEEP A POSITIVE ATTITUDE, AND GIVE EVERYTHING 110%
J - O - Y ⁠
⁠
This little three-letter word conveys a most beautiful feeling, one that flourishes in Viva Babe Katie and that she shares freely with those lucky enough to know her. In fact, the sun seems to shine a little brighter, and the rainbows are more vivid when she is present! You can see it in her smile, her beautiful grin from ear to ear that lights up the room. ⁠
⁠
As if her JOY-giving nature isn't enough, Katie is also a Rockstar in her career, kicking @ss in the industrial safety industry. Tiffany, her friend, and nominator shares, "No challenge is too much for her to tackle, including her ongoing battle with a rare cancer diagnosis. She continues to keep her head up, keep a positive attitude, and give everything 110%. She has been through hell and back but doesn't let it impact her spirit. She's always cracking jokes and making sure everyone around her is happy instead of worrying about her own needs."
⁠
Katie, thank you for showing us that JOY and happiness win every time! The light always shines through the darkness and you are a beautiful guide for all of us.