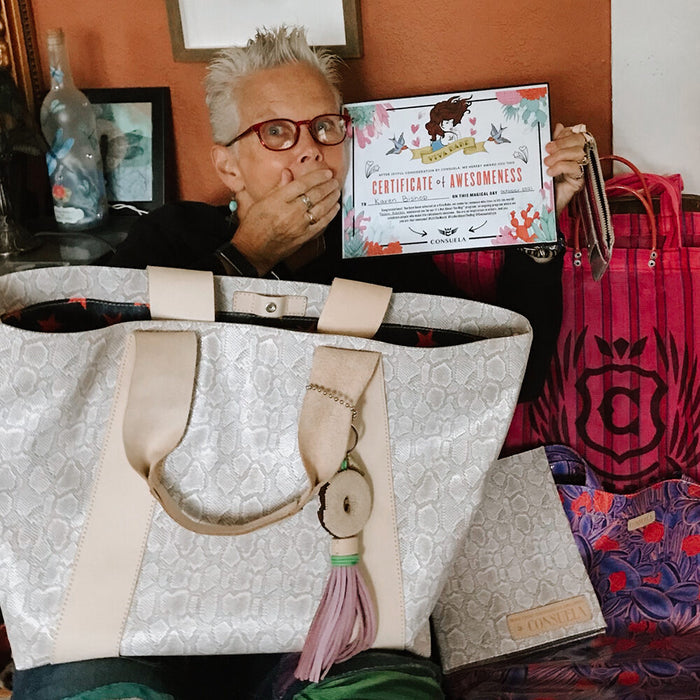 SHE IS THERE FOR EVERY ONE OF HER FORMER STUDENTS, FROM BUYING A CAR FOR A STUDENT WHO LOST HIS PARENTS, TO PAYING RENT FOR A FAMILY IN NEED OF SUPPORT, TO HELPING IN WAYS THAT ARE PRIVATE AND UNKNOWN.
Karen is a retired middle school orchestra teacher in Lutz, Florida, and was nominated by Julie. Julie says, "She is there for every one of her former students, from buying a car for a student who lost his parents, to paying rent for a family in need of support, to helping in ways that are private and unknown. The year she retired, one of her students was dying of brain cancer. She used her first year of retirement to help this family care for Jake. She drove him to treatment 2 hours away, she provided in-home care while his parents worked, and she helped his family as he died. Since then, she has helped another student who is also dying of cancer. Now she is helping me as my husband fights prostate cancer. More than this, she helps anyone she can."
To add to her overflowing generosity and kindness, Karen also founded and leads the Play It Forward Orchestra. "It's an orchestra made up of her former students, and they play in the community for lots of reasons - always to bring joy," Julie says. The Play It Forward Orchestra's motto is "A group of beautiful humans making the world a better place through music."
And that's exactly who Karen is, a beautiful human making the world a better place.
https://www.facebook.com/The-Play-it-Forward-Orchestra-100752838526188/