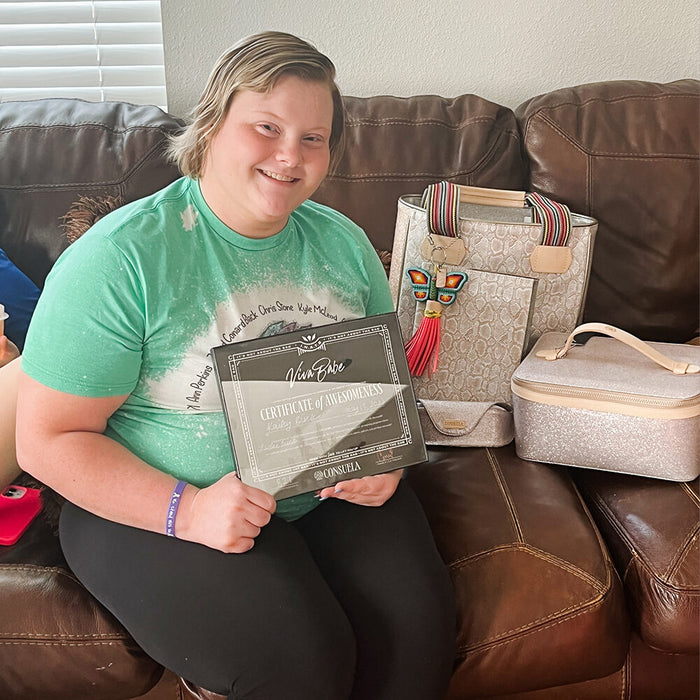 KAILEY IS AN INSPIRATION TO EVERYONE AROUND HER. THIS EXPERIENCE MADE KAILEY WANT TO BECOME A HEMATOLOGY/ONCOLOGY NURSE AT TEXAS CHILDREN'S HOSPITAL, THE SAME PLACE THAT SAVED HER LIFE.
We are awestruck by her strength, tenacity, and generosity! Viva Babe Kailey is making a difference - and at such a young age!
Kailey is a 17-year-old student in Santa Fe, Texas, and was nominated by her mom, Leslie. Kailey was diagnosed with Stage 4 Hodgkin's Lymphoma in 2021. Leslie says, "After her first chemo treatment, she got very sick. Somehow she got an infection that turned into necrotizing fasciitis, a flesh-eating disease. She was rushed into emergency surgery. She had a total of 12 surgeries to remove the infected tissue/muscle and to clean her wounds. We didn't know if she was ever going to be able to walk again. By the grace of God, my daughter can walk. She uses a forearm crutch, but she can walk. We are happy to say that as of December 2021, Kailey is cancer-free!"
"Kailey is an inspiration to everyone around her. She is an officer for her high school FFA club and will also show her steer at the Houston Livestock Show and Rodeo. While in the hospital, she started a nonprofit organization called Kailey's Dream Hunts. She wants to take kids with cancer on hunting trips. She had her first hunter in December. Kailey has always been a kind, caring person. This experience made Kailey want to become a hematology/oncology nurse at Texas Children's Hospital, the same place that saved her life."
Learn more,
https://kaileysdreamhunts.com/