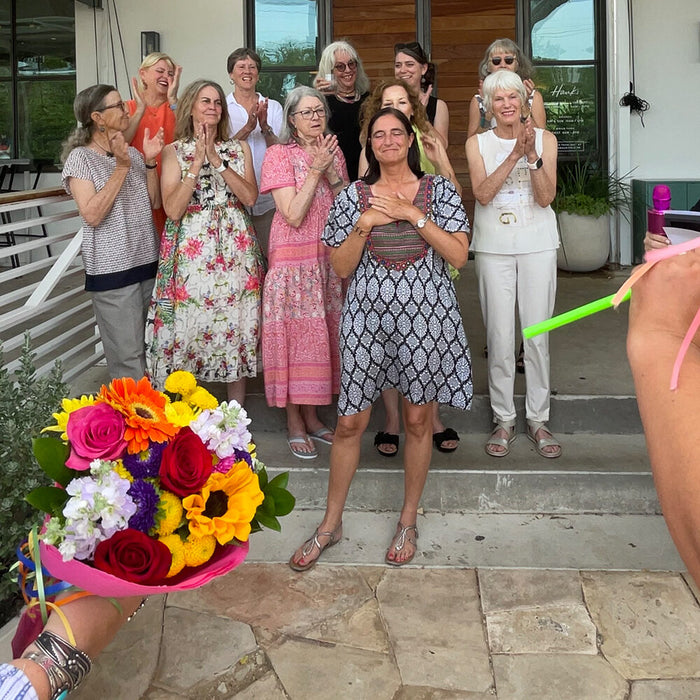 SHE GIVES SO MUCH FOR THE HEALTH AND WELFARE OF OTHERS! TO BE RECOGNIZED FOR HER WORK WOULD BE A CHEERFUL REMINDER OF HER AWESOMENESS.
WHOA! We're blown away by the life-changing connections Viva Babe Julie is making!
Julie is the Founder and Executive Director of HorseLink, a non-profit providing sanctuary and renewed purpose to retired competition horses and a place of healing and growth for people. Heather, her team member and nominator says, "After her land in Bastrop, Texas, was spared in the 2011 fire (a huge wildfire scorching 32,000 acres), she wanted to help her neighbors with their horses as well as provide a much-needed therapeutic outlet for the trauma the residents had endured. Julie knew the life-changing power of the powerful connection between a horse and a person…the link: HorseLink was born!"
"At HorseLink, horses retire to excellent care in a herd, free to live out their days without threat of neglect or slaughter," Heather says. "They enjoy the continued high level of engagement with people to which they are accustomed, but instead of riding or competition, the horses partner in exercises that build trust, awareness, and communication skills with people struggling with addiction recovery, trauma, depression, and more. Julie has helped dozens of horses live out their lives with dignity and purpose. And hundreds of people, including military veterans and the vulnerable among us in society, continue to share the life-changing experiences they have had at HorseLink."
Heather says, "She gives so much for the health and welfare of others! To be recognized for her work would be a cheerful reminder of her awesomeness."
Regarding a quote that guides her, Julie shares one that is front and center, inscribed on her desk plate, 'Do Epic Sh*t'
Boom!
Learn more,
https://thehorselink.org/