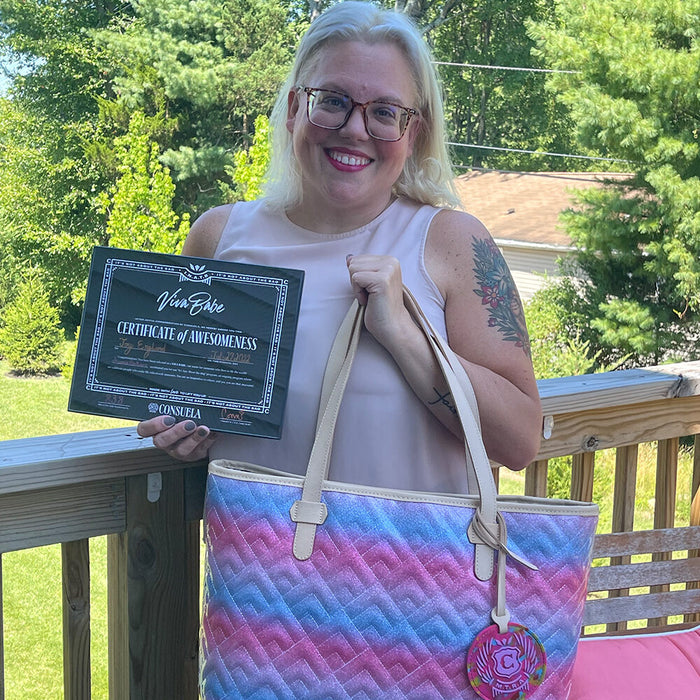 Joy
TOMS RIVER, NEW JERSEY
THERE IS IMMEASURABLE POWER IN OUR STORIES, AND THE IMPACT IS EVEN MORE FAR-REACHING WHEN WE HONOR THOSE STORIES IN LOVE.
Viva Babe Joy leads with love and strives to be the voice for the voiceless.
Joy is the CEO and founder of Advocates in Action (AIA) and the Pink Marker Movement (PMM). She was nominated by Dr. Joanna, an attendee of her program. Dr. Joanna says, "Joy has faced many, many uphill battles in her life, but despite all those challenges, Joy has flourished. She runs AIA with a small team but with huge goals for the future. The Pink Marker Movement is a motivational video (self-study) series that allows individuals to discover the many labels that have been assigned to them throughout their life journey. Once the individual has identified the labels, Joy and her team walk the individual through re-labeling, turning negatives into positives. Since I personally went through the PMM in December 2021, I have recognized my inner strength and confidence. I have opened myself to many possibilities that before I did the PMM course, I would not have considered an option."
In addition to running AIA and her role as mom to two young men, she is also a graduate student at Loyola University Chicago, pursuing her passion of a Master's in Divinity with an emphasis in Social Justice. She balances it all with kindness and positivity. Dr. Joanna says, "While yes, like any small business owner, Joy faces the ups and downs that come with leading her team.....she does so with such grace. Joy is determined to give God the glory, and it is that inspiration that has led me to nominate her."
In Joy's words, "I try every day to live by the promise to myself to lead with love. To be unafraid to show up to this world as myself. To use my voice to share my story and to empower others to embrace theirs. There is immeasurable power in our stories, and the impact is even more far-reaching when we honor those stories in love."
Learn more, at https://advocatesinaction.com