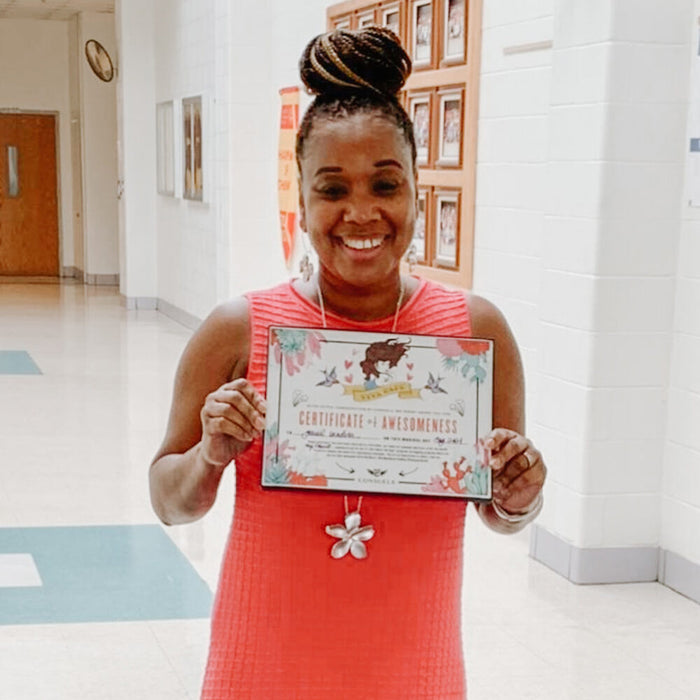 JEWEL
BROOKEVILLE, MARYLAND
EACH YEAR WE ARE GRATEFUL FOR ALL THAT JEWEL HAS DONE TO LEAD THIS SCHOOL WITH COMPASSION, STRENGTH, INTEGRITY, AND AWESOME.
Jewel is a ridiculously awesome Middle School Principal who lives in Brookeville, Maryland, and was nominated by a parent, Amy. Amy shares that her family has had three students attend Jewel's middle school and says, "Each year we are grateful for all that Jewel has done to lead this school with compassion, strength, integrity, and awesome." Amy says the focus at Jewel's school is "Respect * Responsibility * Perspective, and every student believes this. They also stress ECCHO: Equity and Choice Create High Opportunities for ALL students; every single student believes that he or she can and will be successful." ️⁠
⁠
Jewel goes out of her way to make sure every student knows they are important, and she cares about their well-being. Amy says, "She makes sure that every voice is heard, and she really puts social and emotional learning first, which is SUPER important for tweens and teens right now. Our family experienced life-changing trauma a few years ago, and Jewel took the time to call me to make sure I was okay. She assured me: "We will take care of your babies while they are here. We will rally around them and support them and love them. They--you all--will be okay."
⁠
Jewel, thank you for going the extra mile for your students, for showing up in ALL the ways to support them and lead them to success. You are the shiniest gem, brightening the world with your sparkle.