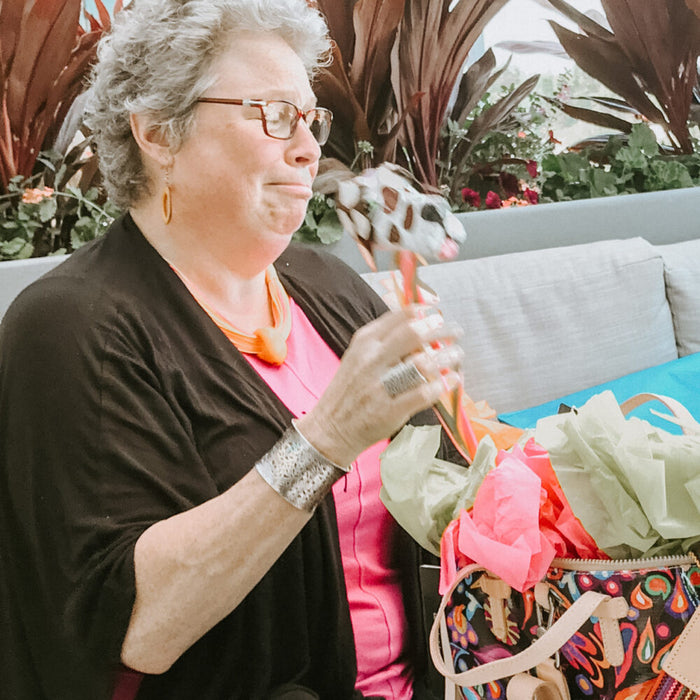 HEATHER
MINNEAPOLIS, MINNESOTA
WE ALL ADORE HEATHER, BUT MORE SO, SHE HAS GIVEN SO MUCH TO US ALL WITH HER EXAMPLE OF COURAGE, GRACE, AND UNSELFISH GIFTS OF HER TIME AND HER ENERGY.
Heather is a business analyst in Minneapolis, Minnesota. She was nominated by long-time friend and former employee, Barb. The magic started when Heather managed a showroom for Dept. 56 and she "served as a kind of Den Mother to the many creative, whacky and wonderful designers," says Barb. After the business sold, the employees scattered, but "Heather is the beacon of light that keeps us all coming back for little mini-reunions." ⠀
⁠⠀
Two years ago, Heather was diagnosed with stage 3 Endometrial/Uterine cancer. Heather faced down cancer with determination and heart. Barb continues, she battled cancer "with courage, yes, but also amazing humor. Heather is known for her fabulous sense of humor!" ⠀
⁠⠀
With her unstoppable spirit, even during her illness, Heather started a Bassett rescue and has fostered over 15 Bassett Hounds and rescued over 25 dogs of various breeds. We can hear the Bassetts baying with joy!
⁠⠀
Barb reiterates, "We all adore Heather, but more so, she has given so much to us all with her example of courage, grace, and unselfish gifts of HER time and HER energy." ⁠⠀
⁠⠀
Today, Heather proudly proclaims she is cancer-free, with no evidence of disease (NED)! She shares her story to help her cope and to raise awareness, explaining, "these cancers don't get much press or research funding and the treatment protocols are arduous." Yet, Viva Babe Heather prevails!
⁠⠀
Heather, you are a spark of love and light! Thank you for all the good you give!