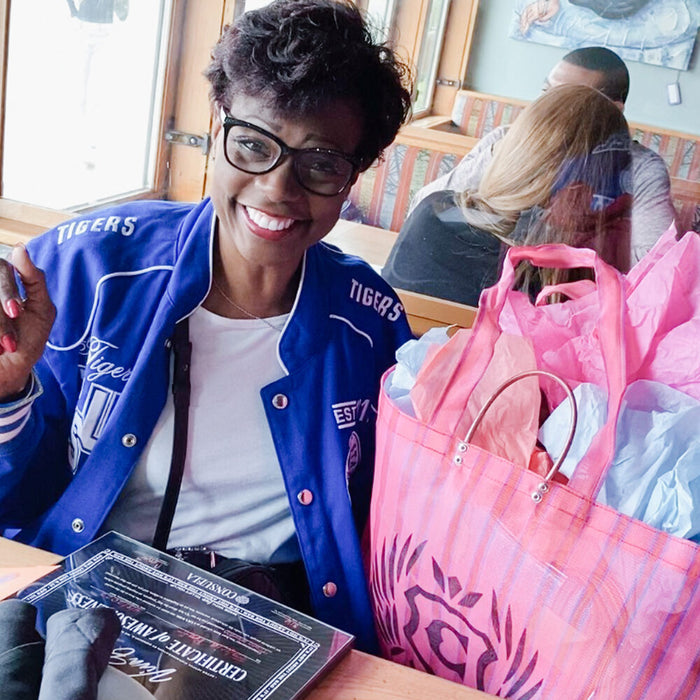 FELICIA'
NASHVILLE, TENNESSEE
SHE LOVES MAKING PEOPLE AROUND HER FEEL GOOD, WHETHER SHE KNOWS THEM OR NOT. SHE ALSO HAS A TRUE PASSION FOR CREATING AWARENESS ABOUT BREAST CANCER.
Felicia' is a flight attendant in Tennessee and was nominated by her friend, Tiara. Tiara says, "My nominee to me is my mentor and another mother. To the world, she presents herself as a fearless, confident, and encouraging flight attendant and owner of a nonprofit organization. She loves making people around her feel good, whether she knows them or not. She also has a true passion for creating awareness about breast cancer."
Felicia's mother passed away 15 years ago, and Felicia' founded Pink Christmas 13 years ago, a non-profit established to offer hope for breast cancer survivors and their families in the greater Nashville area. They provide financial support as well as gifts and food donations to survivors.
Tiara says, "The women that she encounters feel motivated to continue fighting against one of the toughest battles in their life. Felicia' goes above and beyond for them by conducting and hosting annual events to ensure the greater Nashville area comes together as a community to create awareness and continue to fight for a cure. She commits to the women she reaches by partnering with local doctors and allowing them to have a small token to brighten their day after their appointments. They also have open invitations to every event that she hosts."
Felicia' shares her mantra, which was also her mom's mantra,
"Keep the Faith and Be Blessed"
2 Timothy 4: 7-8
Learn more,
https://ourpinkchristmas.com/