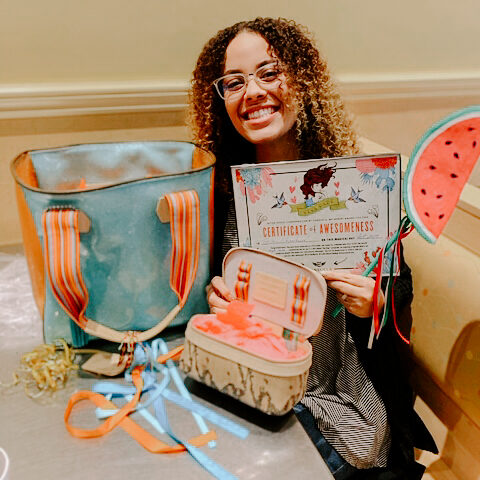 I TOOK TWO YEARS OFF COLLEGE AS I PURSUED MY DREAMS IN KENYA BUT I NEEDED TO FINISH MY DEGREE BECAUSE I COULDN'T ENCOURAGE AND PERSIST THAT THE KIDS IN THE ORPHANAGE FINISH SCHOOL AND GET FREEDOM THROUGH EDUCATION IF I HADN'T DONE SO MYSELF. BUT NOW, I CAN AND WILL DO THAT WITH NO HYPOCRISY BUT IN LOVE AND ENCOURAGEMENT.
Her mom Angela, nominated Erin, who at a very young age, found joy in helping others. In grade school in Oklahoma, Erin would arrive an hour early to help her deaf teacher, Miss Pat, set up her room. She learned sign language and got very attached to Miss Pat's students. While in high school, she volunteered at a camp called 'Make Promises Happen,' assisting the campers with events and prom. As a young adult, Erin attended college to pursue a degree in Services to the Deaf and will graduate in May 2020. She has also worked as a nanny to an amazing special needs teenager.

Her heart for others and her philanthropy extends beyond our borders, as Erin raises her own money to fund her mission trips to Africa and has volunteered in Narok, Kenya, the last four years with Jeremiah's Family Ministry. Her mom shares the mission trips "are her calling. She just wants to help these kids." Her impact is incredible. You can see it in the smiles! And, she's literally saved the lives of more than one child. Plus, during her last trip, she raised money for mattresses for the children living in an orphanage in Kenya. Erin shares, "I took two years off college as I pursued my dreams in Kenya but I needed to finish my degree because I couldn't encourage and persist that the kids in the orphanage finish school and get freedom through education if I hadn't done so myself. But now, I can and will do that with no hypocrisy but in love and encouragement."

So. Much. Love. Erin, we are overwhelmed by your servant's heart. Thank you for your infinite compassion and your abounding love!