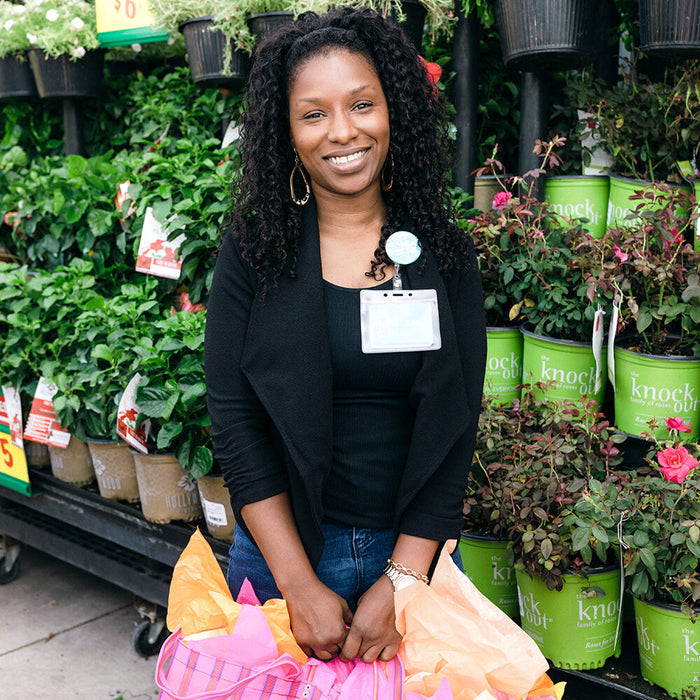 ELLA BECAME MORE THAN A MANAGER TO ME. ELLA BECAME A FRIEND, LEADER, TEACHER, ROLE MODEL, MENTOR, AND THERAPIST, BUT MOST IMPORTANTLY, SHE BECAME A MOM TO ME.
What an outpouring of love for Viva Babe Ella! She's a remarkable mentor and leader and a light to all who know her. Ella takes center stage!

Ella is the Boutique Manager for Mia's Mirror inside the H-E-B Plus supermarket in Bastrop, Texas, and she was nominated individually by three of her team members. All three shared her dedication to her team and colleagues, her uncanny ability to multitask with positivity, and her commitment to leading by example, lifting all in her circle and her community.

Patrick, one of her nominators, says, "She has been with the H-E-B company for 17 years, but it was only four years ago that she became a manager at Mia's. That is where our journey started. Throughout these last four years, I've learned that Ella is an amazing mother to 3 kids, and they are what truly keeps her going - little does she know that she's the reason I keep going. As soon as I joined the Mia's Mirror team, Ella became more than a manager to me. Ella became a friend, leader, teacher, role model, mentor, and therapist, but most importantly, she became a mom to me. Ella never fails to come to work with a positive attitude. She is always on the go, and I fear she never has time for herself. Ella is always here to save the day. A true superhero!"

Ella's Consuelabration was brimming with love and support, making the day EXTRA ridiculously awesome! From each and every one of us, thank you, Ella!